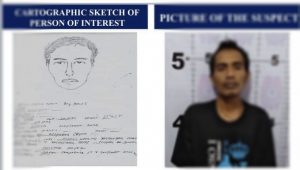 THE DAVAO City Police Office (DCPO) said the suspect in the killing of a cosmetics manager surrendered to the police last week.
He was identified as Rolly Flores Cabiltes, 39, a parking attendant at Km. 5 Buhangin, a native of Sulop, Davao del Sur, and a transient in Bajada. He reportedly confessed to the killing and raping of Christine Sunga Corpuz. 
DCPO director Col. Kirby John Kraft said the suspect was charged with rape with homicide at the City Prosecutor's Office on July 24, 2021. 
Accordingly, the suspect admitted that he was then under the influence of shabu and alcohol when he committed the crime. 
Kraft said they corroborated his confession with the evidence gathered t the scene as well as the accounts of the witnesses. He was also positively identified by the witnesses. The investigation into the crime was spearheaded by the Buhangin Police Station, led by its commander, Maj. Bernie Suaga.
He added that lawyer Wilmer Donasco, who assisted the suspect,  explained the execution of the waiver and extrajudicial confession to make sure that Cablites understood the contents.
The extrajudicial confession was received by Prosecutor Maria Estrella Dulla-Valles as the case now awaits a preliminary investigation.
Kraft said the case is considered solved since the suspect was already charged.
Corpuz, a resident of NCCC Village in Bajada, was found with a deep gash on her head at the grassy portion behind McDonald's outside Ladislawa Village at 4:30 p.m. on March 1 this year.
Reportedly, at around 2 p.m. of the same day, the victim's husband, Williamor Corpuz, was already retracing the steps that his wife used to take as she walked from their house to the highway.
However, a flower vendor, Domingo Putot, told him that between 3 p.m. to 4 p.m. of Feb. 28, he heard a scream for help at the said place but he ignored it, thinking that it was just a domestic spat. The husband sought police assistance to search for his wife in the area.