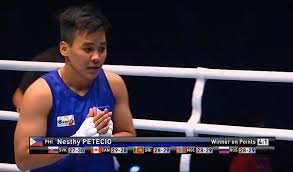 TOKYO – Two days after Hidilyn Diaz's gold medal conquest in the Summer Olympic Games, Nesthy Petecio gets her turn on the spotlight when she takes on Colombia's Yeni Marcela Arias Castaneda in the quarterfinals of the 54-57kg boxing competitions Wednesday at the Kokugikan Arena here.
Petecio, the featherweight champion of the 2019 World Boxing Championships, shoots for the bronze medal at 10 a.m. (Philippine time) against the bronze medalist in the 2019 Pan American Games. If Petecio hurdles the Colombian, she only needs to win two more to win the gold.
"We will look at the videos of her (Castaneda) fights here," said Petecio's Australian coach Don Abnett. "We know her next opponent will be tough, but we're very confident."
Indeed, they are.
On Monday, Petecio removed the biggest stumbling block in her road to glory by beating tournament topseed and world's no. 1 in Chinese Taipei's Lin Yu-Ting by fashioning out a 3-2 split decision victory. Prior to this, Petecio pulled off a dominant 5-0 mauling of Congo's Marcelat Sakobi Matshu in her first bout.
"I want to win the gold medal for my country, but I know that I will have to work hard for it," said Petecio in Filipino after her win over Lin.
On Thursday, Eumir Felix Marcial, predicted by Association Press to win a gold medal here, debuts against Younes Nemouchi of Algeria in the  69-76kg division at 10:48 a.m. (Philippine time), while Irish Magno, fresh off her 5-0 demolition of Kenyan Christine Ongare, in the 48-51kg, takes on Thailand's Jutamas Jitpong next at 12:24 p.m. (Philippine time).
Carlo Paalam, after posting a 4-1 win over Ireland's Brendan Irvine, fights Algeria's Mohamed Flissi on Saturday at 10:48 a.m. (Philippine time).