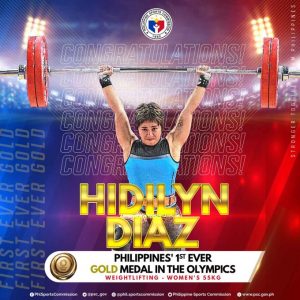 MANILA – After 97 years, the elusive Olympic gold has finally been taken by the Philippines.
Hidilyn Diaz became the first Filipino athlete to win it all in an Olympic event after winning the women's 55-kg. weightlifting competition at the Tokyo International Forum in Japan on Monday night.
Diaz, the 2016 Rio Olympics silver medalist, prevailed in a neck and neck showdown with China's Liao Qiuyun in the clean-and-jerk lift as their battle for the gold went down the wire.
Finishing tied with Diaz in the snatch with a 97-kg. maximum lift, Liao lifted 126 kg. in her final lift, forcing Diaz to go for 127 to steal the top spot from Liao.
Diaz, however, smoothly cleared the 127-kg. lift to win it all, also setting an Olympic record in the process.
Her 224-kg. total is also an Olympic record.
"I don't know what to say. It's a dream come true. I just want to say that we Filipinos are strong. We Filipinos can compete here at the Olympics. We can do it," a high-spirited Diaz was quoted as saying by Xinhuanet.
The 30-year-old Diaz gave advice to younger Filipino athletes to "please dream high."
"That's how I started. I dreamed high and finally, I was able to do it," she added.
Liao admitted that she was surprised by Diaz's improvement.
"I feel good today. I can lift 123kg at most due to injuries, and never thought of a successful 126kg lift. I didn't expect her strength like this," Liao said.
China's coach Zhang Guozheng echoed Liao's thoughts.
"I didn't expect such a situation," he said. "Liao has gone all out, so it's not a huge pity for her to lose the gold medal. It's just because we did not expect our opponent (Diaz) to be so strong."
Diaz has also assured herself of a total of PHP33 million from various people who pledged monetary rewards to the gold medal winners.
Zulfiya Chinshanlo of Kazakhstan claimed the bronze with a total of 213 kg. lifted.
Muattar Nabieva of Uzbekistan, despite setting the Olympic record for the snatch with a 98-kg. lift, missed out on the podium as she could only clear 114 in the C&J for a total of 212.
Malacañang joined the entire nation in celebrating the country's first-ever Olympic gold medal since it joined the most prestigious quadrennial event in 1924.
"The Palace congratulates Hidilyn Diaz for bringing pride and glory to the Philippines for winning the country's first-ever Olympic gold medal," Presidential spokesperson Harry Roque said in a statement.
"Congratulations, Hidilyn. The entire Filipino nation is proud of you. Laban, Pilipinas! (Fight Philippines!)," he added.
Presidential Communications Operations Office Secretary Martin Andanar said Diaz's golden performance showcased the Filipinos' talent as world-class athletes.
"We are one with the Filipino nation in celebrating the remarkable and historic success of Hidilyn Diaz in the recently held Women's 55-kg. Weightlifting Competition during the Tokyo 2020 Olympic Games," Andanar said. "This win gave the Philippines its very first Olympic gold medal and showcased (the) Filipinos' talent as world-class athletes." By Ivan Stewart Saldajeno/PNA)