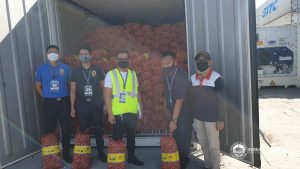 THE BUREAU of Customs-Port of Davao seized four 40-footer containers of illegally imported onions valued at Php 4.9 million on July 21. 
The belated report revealed that based on intelligence reports, the containers arrived at the Tefasco Wharf on July 19, 2021, and were said to contain 2,500 packages of pastries from China. 
However, derogatory information from the BOC's Intelligence Group and Enforcement Group led to the issuance of an alert order against consignee GBJ Consumers Goods.  
The assigned examiners immediately conducted a physical examination which yielded positive for misdeclaration of goods as the 2,500 bags of red onions were found.  
District collector Erastus Sandino B. Austria already issued a warrant of seizure and detention (WSD) against these illicit articles for violating Section 1400 "Misdeclaration of Goods Description" of Republic Act No. 10863 otherwise known as the Customs Modernization and Tariff Act.  
Further, the misdeclared items were not covered by a sanitary and phytosanitary import clearance (SPSIC) and commodity clearance from the Bureau of Plant Industry (BPI) pursuant to Department of Agriculture Administrative Order No. 02 Series of 2020. 
The BOC-Davao will continue its intensified campaign against the smuggling of these illegally imported goods into the country, led by Austria, with partner regulating and enforcement agencies and Commissioner Rey Leonardo Guerrero's priority programs.