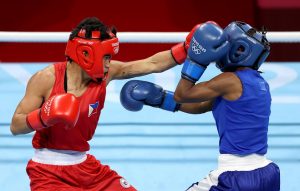 TOKYO – Irish Magno finished the way she started en route to an emphatic 5-0 shutout win on Sunday over Kenyan Christine Ongare in the women's 48-51-kg division of the Summer Olympic Games' boxing competitions at the Kokugikan Arena here.
Following coach Don Abnett's game-plan almost to the letter, Magno toyed with the Kenyan from start to finish, moving in for the crisp blows and then out of harm's way from Ongare's wild swings.
All the five judges gave all the rounds to the Filipina flyweight (30-27, 30-27, 30-27, 30-27), including a 30-26 score from Algerian judge Sidali Mokretari.
Magno, however, toned down expectations after her scintillating victory, a fitting follow-up to teammate Nesthy Petecio's emphatic 5-0 win a day earlier.
"Huwag muna tayo mag-aim high, step by step muna tayo," said Magno as she sped off to her waiting shuttle service outside of the arena that originally plays host to the traditional Japanese sumo wrestling.
The 25-year-old Magno takes on Jutamas Jitpong next at 12:24 (Philippine time) on Thursday after the Thai fashioned out an equally impressive 5-0 blanking of Algeria's Roumaysa Boualam 15 minutes later.
The world's no. 25 Magno used her two-inch height advantage to the hilt against Ongare, who is ranked higher at no. 17 and was the first female Kenyan boxer to win a Commonwealth Games medal (bronze) in the sport. Magno's 1-2 combinations were precise, and so was her defense as she deftly eluded Orange's aggressive plays as a result of her being behind in the scorecards.
On Monday, flyweight no. 25 Carlo Paalam makes his Olympic debut at 11:03 a.m. (Philippine time) as he battles 25-year-old Irishman Brendan Irvine, ranked no. 32.
On the same day, Petecio faces the biggest thorn in her road to gold when she fights top-seed Lin Yu-Ting of Chinese Taipei in the Round of 16 at 12:39 p.m. (Philippine time)
Eumir Marcial, by virtue of his being seeded no. 3 here, drew a bye. Needing only two wins to clinch a bronze medal and four to secure gold, the middleweight Marcial will fight on Thursday the winner of the bout between Algeria's Younes Nemouchi and Ugandan Kavuma David Ssemujju.