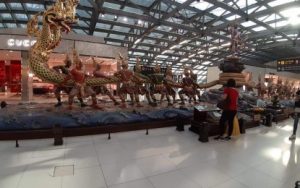 MANILA – Travelers from Thailand and Malaysia will be prohibited from entering the Philippines beginning July 25, Malacañang announced Friday amid the threat posed by the more transmissible Delta variant.
"President Rodrigo Roa Duterte approved the travel restrictions for all travelers coming from Malaysia and Thailand or those with travel history to Malaysia and Thailand within the last 14 days preceding arrival in the Philippines," Presidential Spokesperson Harry Roque said in a press statement.
The travel ban imposed on passengers from Thailand and Malaysia will be in effect from July 25 to 31, Roque said.
He said travelers already in transit from the two countries within 14 days immediately preceding their arrival and those who arrive before July 25 may still be allowed to enter the country.
However, they are required to undergo a full 14-day facility quarantine even after getting a negative reverse transcription-polymerase chain reaction (RT-PCR) result.
"This action is undertaken to prevent the further spread and community transmission of Covid-19 variants in the Philippines," Roque said.
Nations already included in the travel ban are India, Pakistan, Bangladesh, Sri Lanka, Nepal, United Arab Emirates, and Oman.
Filipinos who are part of repatriation efforts or special commercial flights are not covered by the travel restrictions, he said.
"But they have to follow the prescribed testing and quarantine protocols," he added.
The Philippines on Thursday logged 12 new local cases of the Delta Covid-19 variant, bringing the total case count of the more infectious coronavirus to 47.
Across the Asia-Pacific region, including Southeast Asia, the Delta variant is driving new outbreaks.
Malaysia and Thailand are seeing surges in their cases due to the Delta variant, reporting more than 13,000 cases each as of July 22.
The Delta coronavirus variant, which was first detected in India, is found to be 60 percent more infectious than the Alpha variant and is believed to be behind the surge in cases in other countries.
Medical experts have noted that a person who contracts the Delta variant can infect five to eight people.
On Monday, Duterte sought stricter health measures in preparation for the possible local transmission of the "more aggressive and fatal" Covid-19 Delta variant in the country. (PNA)