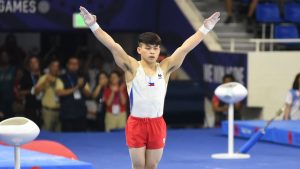 TOKYO — Carlos Yulo psyched himself up in his room at the Olympic Village on Friday as he focused on the men's artistic gymnastics competitions that starts on Saturday at the Ariake Gymnastics Centre.
Yulo, who is solo in his room, only accepted selected visitors, one of them Gymnastics Association of the Philippines president Cynthia Carrion-Norton.
"He's okay," said Norton, who, since arriving in Tokyo on Sunday, never let a day pass making sure her ward gets everything necessary for his Olympic debut.
"We scientifically studied Nikita's most recent performance and Caloy [Yulo] stands a good chance," said Carrion, adding Nikita Nagornny, the multi-titled Russian who poses as the biggest threat to Yulo's gold medal bid, hasn't performed at par in a recent competition.
"He [Nagornny] did 6.6 in his last competition," Carrion-Norton said.
Carrion-Norton said the competition held in Nagornny's native Russia showed a dent in the three-time world champion's armor.
"If Nikita does 6.6 here and Caloy makes 6.8, then Caloy's done it," Carrion-Norton noted.
Yulo is focused on winning the men's floor exercise gold medal, but he would have to do it the safer way.
The 21-year-old Yulo, who has made Japan his home for some five years now, dropped his signature triple back and double forward flip following a misstep in training two weeks ago. He hurt his right hip in the process.
Nagornny, on the other hand, is expected to up the degree of difficulty of his routine with his own triple dive—and that's exactly what Yulo's camp is hoping for: for the Russian to commit a mistake.
The men's artistic gymnastics competitions are divided into three subdivisions starting at 10 a.m. Tokyo time.