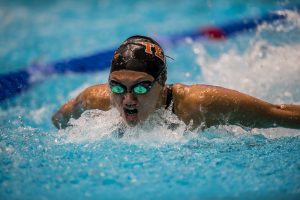 TOKYO — Remedy Rule competes in the women's 100 meters butterfly heats on Saturday night in a field of 34 where the top 16 will advance to the swimming event's semifinals at the Tokyo Aquatics Centre.
The 24-year-old Filipino-Texan, owner of two silver and two bronze medals from the 2019 Southeast Asian Games, is swimming in Heat 2 of the five-heat qualifiers.
"I'm very happy for her that she has reached this level," said Philippine Swimming Inc. president Lailani Velasco. "If I'm excited, she's more excited."
Rule set her best time of 59.55 seconds in the event in the Elite Invite tournament in Texas last May.
Rule was in the pool on Friday afternoon honing for Saturday's heat upon instruction of coach Sherwin Santiago. She will also compete in the 200m freestyle.
The other Filipino swimmer in the Games, Filipino-Kiwi Luke Gebbie, will vie in the men's 100m freestyle on Sunday and 50m freestyle on Friday.
Both qualified in the Tokyo Olympics under the universality rule.