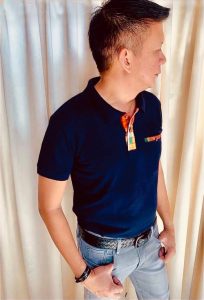 THIS horrible Covid pandemic has taken its toll on so many businesses as well as many artists.  Many of Davao's business entrepreneurs have lost clients which consequently led to the loss of staff and the lack of earnings.  Stephanie Misoles Dacalus alias Steffy de Mylo, Davao's Amazona of Fashion, is no exception to this problem like many of her colleagues involved in the fashion business of Davao City.  In fact, she was already thinking and readying herself into diversifying into the food business for practical reasons.  But then again, with her natural right to turn fickle, she instead went into designing for men.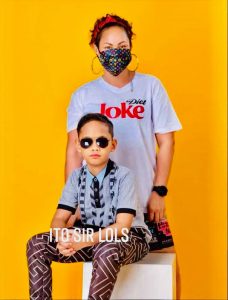 "I bravely launched my men's line, which includes shoes for men, in Davao's fashion arena.  There is a demand for it so I decided to grab the opportunity.  The five designs in my men's collection are all close to my heart as the fabrics and prints are all well curated to include hand-woven yakan and inaul fabrics, two barong-inspired styles, and a print from a painting I so loved and acquired from a talented painter named Alfred Galvez.  Galvez's painting, which is displayed conspicuously in my house, is a toile de jouy print depicting Filipino culture. 
My men's collection has been carefully conceived for years before it materialized at this most unholy time.  The overall theme for my men's collection is the 'twinning' of father and son in the same outfits.  I am so happy as this is the debut of my son, Mylo, as my young model along with a dear friend, Rico Manzo," said Steffy de Mylo.
     Steffy de Mylo's shoes for men, obviously, reflects her love for the rich culture of Mindanao.  Using Mindanao's tribes' various fabrics of life in various bright colors, she considers her footwear for both men and women as "art pieces."  "It's like taking a journey on a road less travelled for me in designing and producing my footwear line.  I just love shoes just as Imelda does.  And so do Manila personalities like Heart Evangelista and Tessa Prieto-Valdes who are my fashion icons who wear my shoes. What woman doesn't love shoes, aber?"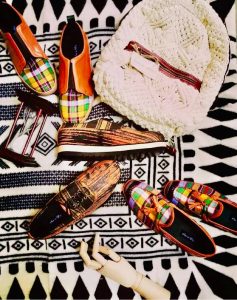 "My design aesthetic combines both masculine and feminine characteristics into an ambiguous form simply known as androgyny. It reflects who I am. Designing for men doesn't require me to wring my brains for ideas although there is a consideration on how to integrate the basic design elements including color, texture, space, lines, pattern silhouette, shape, proportion, balance, emphasis or focal point.  The outcome doesn't have to be so flamboyant.  I am not afraid of mixing colors as you will notice in my collection.  I've kept a balance with the use of subtle tones, bold colors and traditional ones so my clients will have a variety to choose from to suit their taste and lifestyle," explained Steffy as she added, "You have to understand your users and their needs.  You have to have a human-centered design solution."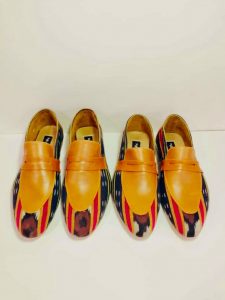 "My ideal fashionable man is a neat one.  He may sport a scruffy look but overall he still comes out neat looking.  He is a real gentleman of good taste who doesn't hurt his woman.  He may not be updated on the latest fashion trend but he knows how to put his distinctive fashion together harmoniously and carry himself with such confidence.  Yes, confidence is the key.  Even in a staple white tee-shirt matched with a pair of denim pants, he can still exude that manly sophistication.  I love a well-built man in a cable knit turtle neck sweater though," so described this badass designer who was once thrown stones at for being different.  Yes, the once shy, sensitive and artistic morena girl with curly tops has learned her lesson well; and has stopped apologizing for her existence.  "I've spent so much time being a loner, being an introvert.  By accepting who I am and coming to terms with my being different, I have set myself free of my traumatic experience in my youth of being bullied.  Freedom is power.  And freedom for me is expressed through my artistry."
      Indeed, you have gone a long way, Steffy de Mylo.  We ended our interview just as hurriedly as the fashion designer still had to man her family's gasoline station.  Saludo ako!