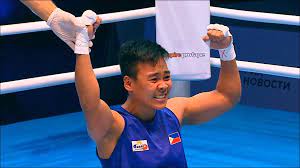 TOKYO— Nesthy Petecio declared her readiness to take on the Olympic stage as she faces Marcelat Sakobi Matshu of the Democratic Republic of the Congo in the very first boxing match of the Tokyo Games at noon on Saturday.
"I am more than ready," Petecio, the women's featherweight gold at the Ulan-Ude world championships in Russia in 2019, said on Friday.
Four years younger at 25 and less experienced than the Davao pride Petecio, Matshu doesn't pose much of a threat to the first of four Filipino boxers vying in these Olympics.
But Petecio is not taking her opponent lightly.
"Our coaches have reviewed videos of my opponent and they have prepared a strategy for me," Petecio said. "I'll only need to follow instructions when I climb the ring."
Matshu could only rank 17th in the same Ulan-Ude world championships.
The Petecio-Matshu duel—set at 11 a.m. (noon in Manila)—is the very first bout of these Olympic Games where boxing is supervised by a special body created by the International Olympic Committee following the suspension of the International Boxing Association, which is under investigation for dubious decisions in past major tournaments.
"She's ready and she has something to prove," said Nolito "Boy" Velasco, a veteran on the Association of Boxing Alliances in the Philippines coaching staff who handles the women on the team. "This could be her time and she worked hard for this."
The boxing draw was done on Thursday night and next up for Team Philippines in the competitions set at the Kokugikan Arena is women's flyweight Irish Magno, who fights Kenya's Christine Ongare on Sunday, followed by Carlo Paalam's men's flyweight bout against Ireland's Brendan Irvine on Monday.
Eumir Felix Marcial drew a first-round bye and will only fight in the men's middleweight round-of-16 on July 29 against either Algeria's Younes Nemouchi or Uganda's Ssemujju.