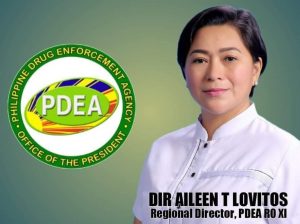 THE NEWLY designated director of the Philippine Drug Enforcement Agency (PDEA) XI vows to intensify illegal drug operations to achieve drug-free barangays in the region. 
Director Aileen Lovitos formally assumed as the ninth PDEA XI director replacing Antonio Rivera.
On her assumption to the office, Lovitos vows to fully implement the anti-drug campaign, through the conduct of the anti-drug operations, community involvement in collaboration with partner stakeholders, and the pursuance of Barangay drug clearing program.
On July 5, 2021, Undersecretary Wilkins Villanueva , the Director-General of PDEA issued Agency order No. 2021-237 designating Lovitos as regional director of PDEA XI.   
She belonged to the PDEA Academy's first graduates of drug law enforcers under Unang Sinag class. After she graduated at the PDEA Academy, she held various key positions in different regional offices, as well as leading the academy, as its first female superintendent.