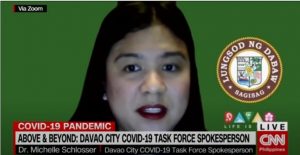 THE CITY has not recorded any case of the highly transmissible Delta variant so far, a health official said on Wednesday.
Dr. Michelle Schlosser, City COVID-19 Task Force spokesperson, allayed the fears of the public following reports of positive cases of the new variant in some parts of the country, particularly neighboring Cagayan de Oro City.
"For Davao, we have not been notified. Wala ta na-notify nga naa tay Delta variant (We haven't yet notified that there are cases of Delta variant in the city," Schlosser said during the COVID-19 Alert program of the Davao City Disaster Radio.
The variant was first discovered in India and was attributed as the single factor on how some nations went on intensified lockdown as they braced for the third wave of infections. The variant is supposedly thousand times more transmissible compared to the alpha variant.
It has been considered as the "fastest and fittest" variant among other variants by the World Health Organization (WHO). Indonesia has noted a dramatic increase in COVID-19 cases and deaths because of this variant.
She stressed that the city heightened its security measures in terms of prevention, detection, isolation, and reintegration to thwart the possible transmission of this new COVID-19 variant in the city. 
They strengthened their safety protocols in the city's entry points especially for inbound travels via land, sea, and air.
"Naa gyud tay mga lakang para dili makasulod sa atoa ang Delta variant pero even before the Delta variant, ginapa-higpitan man nato ang atoang mga borders (Even before the Delta variant, we already implemented measures to prevent the transmission of the virus)," the health official said.
The city government requires those people who will be entering the city to submit negative RT-PCR results valid for 72 hours to ensure that they are not carriers of the virus.
Following this development, she underscored that they continue to empower the Barangay Health Emergency Response Team (BHERT), especially in monitoring new people in their community, and ensuring that they are strictly following the 14-day quarantine.
"We continue to make sure nga ma-implement nato ang mga Executive Order nga gipagawas sa atong mayor ang Executive Order 18 ug Executive Order 20-A. Mao ning mga expanded contract tracing, mao pod ning massive surveillance swabbing (We make sure that the executive orders issued by our mayor are implemented for the expanded contract tracing and swabbing)," Schlosser said.
While the city is now under General Community Quarantine (GCQ), Schlosser emphasized to the public the need to continue observing the minimum health standards to curb the rising cases.