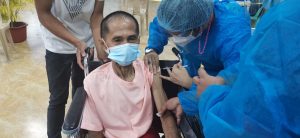 SOME thirty-nine (39) senior citizens currently sheltered at the Home for the Aged (HA) in Visayan Village, Tagum City recently received their first dose of Sinovac vaccine. The newscast was initially reported by the City Information Office of Tagum. 
From a total number of 50 residents in the said facility, 11 of them were not able to get their vaccine jabs due to their health conditions.
The vaccination activity was a partnership between the Department of Social Welfare and Development (DSWD) and the City Government of Tagum through its City Health Office Mobile Vaccination.
Ms. Candelaria Tingson, center head, expressed her gratitude to the officials of the local government. She also added that the vaccination was part of the government's mandate in protecting the elderlies as one of the vulnerable groups.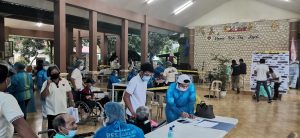 "The vaccination done to the residents of the HA was very successful. We sincerely thank the City Government of Tagum for the quality service they have provided to our clients," she stated.
Tingson also shared that personnel of the residential care facility continue to monitor the health of the residents who have been inoculated.
Tatay Joena, one of the residents of the facility, shared his gratitude to the opportunity of being vaccinated.
"Salamat kaayo sa paghatag sa amoa og vaccine. Gitagaan gyud mi og pagtagad sa gobyerno para proteksyunan pa gihapon bisan tigulang nami (Thank you so much for the vaccine. The government sees it necessary to protect us even if we're already old)," he said.
Likewise, Regional Director Raquel E. Nuñez extended her appreciation to the people behind the vaccination program for the senior citizens.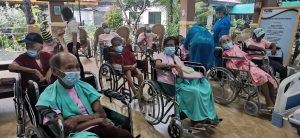 "It was a great initiative by our partner, the local government of Tagum City, to give our elderlies the protection from the deadly COVID-19 virus," Director Nuñez said.
As the deadly COVID-19 virus intensifies its presence in the country with more variants, the Department continues to support the vaccination program of both the national and local government to encourage the general public to have themselves vaccinated, especially the poor, marginalized, and vulnerable sectors of the community.