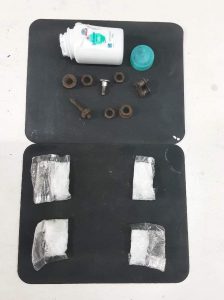 AUTHORITIES seized more than P70,000 worth of shabu stuffed inside a body powder container that was thrown inside Davao City jail in Barangay Ma-a, Talomo District at 10:25 a.m. on July 17.
Maj. Sean Logronio, the Talomo Police Station chief, said they received a report from the city jail about a plastic container of a popular baby powder brand was thrown into the compound from the outside. 
The report said that it was thrown at Tower 5, located on top of Ultra and Halfway buildings. 
Upon further checking, the authorities four sachets of shabu along with some metal bolts and nuts to add weight. The police said the illegal drugs weighed four grams worth P74,000.