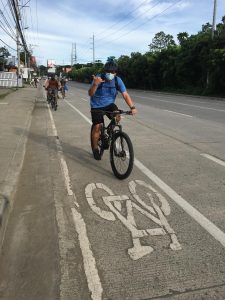 DAVAOEÑO cyclists will now have access to safer roads with the virtual inauguration of the 54.71-kilometer Metro Davao Bike Lane Network on Tuesday, as part of the government's effort to promote sustainability through active mobility among Filipinos.
The virtual event was attended by Mayor Sara Duterte, Department of Public Works and Highways Secretary Mark A. Villar, and Department of Transportation (DOTr) Secretary Art P. Tugade.
In her remark, Duterte congratulated DOTr, DPWH, and the Mindanao Development Authority for the completion of the project that would help vulnerable road users – cyclists and pedestrians in the city, to enjoy a safer space when using the road. 
"Bicycles are considered as efficient modes of transportation as they have beneficial effects in terms of health and fitness as well contribute to the improvement of our Metropolitan City by helping decongest traffic and reduce carbon emission," Duterte said.
During the lockdown due to the surge of coronavirus disease (COVID-19) cases, bikes start filling up the streets around the city. It became an alternative form of transportation when going to work or travel to other places since it is easier to observe social distancing instead of taking the usual public transport.
"By providing Dabawenyos with bicycle lanes, they are able to safely maximize usage of their bicycles whether as a mode of transportation for work or business or as a means for exercise and leisure activities," she further said.
The local chief executive added the promotion of active transportation such as biking is a key mechanism in the fulfillment of the city's sustainability and renewability goals.
The bike lane network project was officially completed on June 30, 2021, which spans across the 14 road sections. 
It features white and green pavement markings, signage, bollards, bike symbols, and concrete delineators to ensure the bikers' safety. 
It is also equipped with solar studs and bike racks for the comfort and convenience of bikers.
The project was funded under the Bayanihan to Recover as One Act of 2020 (Republic Act No. 11494), with a total allocation of P145.371 million.
Lawyer Mark Steven Pastor, Assistant Secretary of DOTr, said that the project was initiated because of the need of the public for a new transport system that is adaptive to the new normal. 
"When the pandemic struck early last year and has brought about unprecedented circumstances in the country including the transport sector, we were challenged to rethink and reform our transportation system that is adaptive to the new normal and fitting to the mobility needs of the public amid the COVID-19 pandemic," Pastor said.
He expressed his optimism that the project will pave way for economic recovery by championing road safety and the importance of road sharing with the establishment of bike facilities.
On the other hand, DOTr chief Tugade encouraged Dabawenyos to be responsible, discipline, and show courtesy when using the bike lanes. 
With this, it will protect the bikers against aggressive drivers and reduce road accidents.