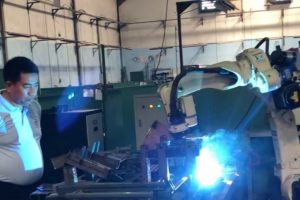 AS COVID-19 cases continue to rise, the national and local governments have been doubling their effort in promoting mass vaccination to achieve herd immunity against COVID-19. During the vaccination rollouts, tons of COVID-related waste is collected, and thousands of syringes and needles are thrown away.
To address this problem on medical waste management and disposal, the Department of Science and Technology Region XI (DOST XI) partnered with Bluelander Environmental Services during the vaccination drive for government employees in Davao City led by the Association of Regional Executives of National Agencies in Region XI (ARENA XI) which commenced last June 30, 2021. It is a private company in Davao City that provides affordable and environment-friendly services in medical waste management and treatment to meet the needs of hospitals and clinics.
Bluelander Environmental Services uses a technology called Nitro-sterile where medical wastes such as used syringes and needles undergo a thermal treatment process through sterilization. Nitro-sterile is a US patented machine that sterilizes medical waste in an oxygen-free chamber filled with pressurized high-temperature nitrogen that disinfects and shreds medical, clinical, and pathological wastes into very fine and unrecognizable material. Following the sterilization process, the medical waste is disposed to a special waste cell, similar to a sanitary landfill. 
"Our machines can reduce the volume of medical waste to 60%. By regulation, medical waste is hazardous waste. Even if sterilized, you cannot dispose of it in any sanitary landfill. It should be a special waste cell and cannot be recycled according to RA 6969", said Engr. Roderick Dayot, RADICOR Solutions President and BlueLander Founder.
Engr. Dayot, awarded by DOST XI as Most Outstanding Invention winner during the Regional Invention Contest and Exhibit (RICE) 2015 and the Second Most Outstanding Invention 2016 during the National Invention Contest and Exhibit (NICE), said that the absence of an environment-friendly technology in the medical waste industry inspired him to come up and manufacture the Nitro-sterile Machine.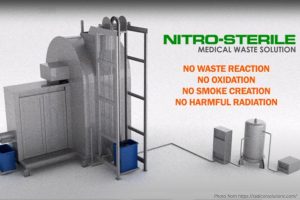 This machine is an environment-friendly replacement to other technologies such as incinerators, autoclaves, and microwaves which are expensive, energy and water-intensive, and dangerous to operators who are near the machine. It is an affordable technology since it uses nitrogen, an inert gas that is cheap and readily available. It is also an environment-friendly technology that has no burning and does not produce any odor or emission. As of now, the company has already deployed six machines that are currently used to treat medical wastes in different hospitals in Iloilo, Zamboanga, and Cagayan de Oro.
With their knowledge in managing medical wastes and their long-term partnership with DOST XI, Engr. Dayot volunteered during the ARENA XI Resbakuna program to support DOST XI's initiative in vaccinating government employees from different agencies in Davao City. It is also a way of giving back to the institution for helping them in promoting their projects.
"If we manage the medical wastes properly, we can prevent the spread of disease. We can also provide services to hospitals and clinics especially in managing medical wastes with the possible presence of COVID-19 virus and other viruses," Dayot added. (Photos from Bluelander Environmental Services)