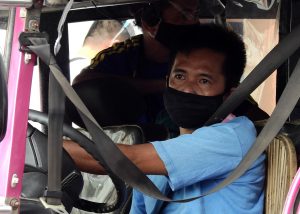 THE CASH grant is still open for all jeepney operators and drivers who are affected by the High Priority Bus System (HPBS).
During the Sakay ta Bai radio program of the City Disaster Radio on Monday, Atty. Tristan Dwight Domingo, assistant city administrator, said the city government has not yet reached the targeted 20,000 beneficiaries for the cash assistance for HPBS.
"So far wala pa na-reach ang target applicants (So far, we have not yet reached the target applicants)," Domingo said, adding that the affected sector will need to present and submit documents such as license, and other documents needed as proof for the grant.
Jeepney drivers/operators are also requested to cooperate so that rollout of cash assistance would be easier. Domingo added that this type of service is not usually done by localities for their modernization project and is the "first of its kind." He said that the assistance is primarily given for buying new units.
He added that every day, including weekends and holidays, Commissioner Norman Baloro and the team of High Priority Bus System cater to drivers and operators at Magsaysay Park for the HPBS-Social Development Program.
The HPBS-SDP also has its own Facebook account where updates about the program are available.
Apart from cash assistance, non-cash assistance is also provided through training. This is done by the Technical Education and Skills and Development Authority and other partner national government agencies. 
Those who want to become bus drivers are given a chance to avail NCIII for Bus Driving, so that in the future if they can pass, they are given priority. Other NCII courses are also offered to drivers that will help drivers/operators achieve a set of skills that they may use in the future. The HPBS is eyed to be launched by August 2023. 
Currently, Domingo said the city government is in the design phase for the infrastructure support including bus stops and depots. The city is also conducting continuous consultation with affected stakeholders and also ensures continuity of the registration of the beneficiaries for the HPBS Social Development Package.