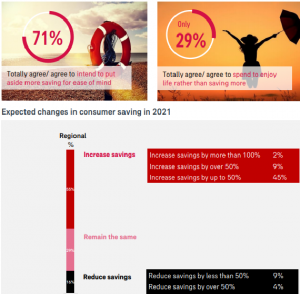 MANILA, PHILIPPINES — AIA Group Limited, the parent company of AIA Philam Life, recently announced the results of a survey on the impact of COVID-19 on household savings, revealing as many as 77 percent of Filipinos agreed they plan to put more aside for savings driven by fear and insecurity arising from the pandemic.  The survey also showed 94 percent of the 800 people surveyed in the Philippines use low-interest bank deposits as a savings vehicle which may mean depreciation of savings.
The Save Smarter Study 2021 surveyed 7,400 insurance consumers aged 25+ across eight Asian markets, including Mainland China, Hong Kong, Indonesia, Malaysia, the Philippines, Singapore, Thailand, and Vietnam.
"The pandemic continues to affect many people all over the world and has changed the way we live,"  says  AIA  Philam  Life  CEO  Kelvin  Ang.  "With the valuable insights we've gathered on Filipinos'  views  on  savings  during  the  pandemic,  we have very clear indications on what our customers need. This ensures we are able to provide them the best product options that will help them live healthier, longer, better lives."
Intention to save more for emergencies but without more planning
Uncertainties  caused  by COVID-19 are driving a  major shift in consumer household savings. While 45 percent of the Filipino respondents said they reduced their savings in 2020, 65 percent said they plan to increase their savings in 2021 with 53 percent planning to increase their savings by up to 50 percent and 12 percent planning an increase of over 50 percent.
The  study  also  showed  household  savings  trends  and  objectives  are  changing.  Managing uncertainty has become the emerging saving goal with a  greater focus on having access to emergency funds.  Preparing  for  emergency  spending  (72  percent),  guaranteeing financial security in case of misfortune (65 percent) and coverage for medical expenses (62 percent), top the list of savings objectives. A lower but nonetheless important priority remains saving for typical life  goals  such  as  education,  getting  married,  buying  a  house  (50  percent)  or  retirement  (57 percent).
Although  Filipinos seemed to have a  more disciplined approach to savings than in the other markets surveyed, meeting such diverse goals through increased household savings is a major challenge. A quarter of the respondents (25 percent) simply save what money they have after expenses without a proactive saving plan and 22 percent put aside a fixed overall amount. 29 percent list out their savings goals and put aside savings to meet them which is higher than the
average of the other markets at 25 percent.
Despite this savings discipline, the low bank interest environment threatens to depreciate savings with by far the most popular place to save being the bank. Almost all surveyed (94 percent) prefer the liquidity  of  bank savings with  91 percent using  demand deposits and a massive 40 percent having no other form of savings at all.
The importance of insurance for protection and savings
A  further  impact  of  the  pandemic  is  a  stronger  interest  in  insurance  with  three  quarters  (75 percent) of Filipinos agreeing insurance has become more important than ever to provide better protection in case of unexpected incidents and more than a quarter (27 percent) say they plan to increase  their  allocation  of  funds  to  insurance.  Of  those  planning  to  raise  their  spending  on insurance, 80 percent intend to spend more on life insurance with savings and 60 percent say they plan to spend more on medical and health insurance.
The emotional and financial impact of COVID-19
The fear and uncertainty driving increased interest in protection also appears to be impacting wellbeing, with 76 percent of Filipinos saying COVID-19 negatively impacted their social life in
2020 while 39 percent believing it adversely affected their health. The financial impact has also been significant with an average income reduction of 29 percent in the Philippines and over two-thirds saying COVID-19 had negatively impacted their personal/family income (71 percent) and  financial status (69 percent). And these impacts may not end any time soon, with 82 percent believing COVID-19 will persist beyond June 2021 and 18 percent, believing it will last until 2023 or beyond.
With these findings, AIA Philam Life continues to offer Filipinos solutions which help grow and safeguard  their  savings  while  protecting  them  against  risk.  One  such  solution  is  AIA  Future Builder, the company's latest variable unit linked (VUL) product that allows parents to maximize their  savings  potential  with  the  option  to  diversify  their  investments  through  either  locally  or globally managed funds. "Heeding the current needs of our customers, the plan also comes with basic insurance protection for life, total permanent and disability, and personal accidents as well as additional benefits through riders," said AIA Philam Life Head of Products Ten Paras. "With the combined benefit of long-term savings and protection, AIA Future Builder goes a long way in providing the peace of mind that parents need, while ensuring that they are able to meet future big expenses that the family need to spend on."
With the newly launched solution, AIA Philam Life continues its mission of racing against risk to protect Filipino families, ultimately empowering them to live healthier, longer, better lives.
Click here for more information about AIA Future Builder, here to know more about the Save  Smarter Study or visit  AIA  Philam  Life's Facebook  page , email philamlife@aia.com, or call (02) 8528-2000.