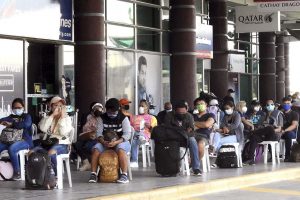 HEALTH and safety protocols were strictly enforced following the arrival of a total of 359 Overseas Filipino workers (OFWs) and returning overseas Filipinos (ROFs) from Dubai to prevent the possible spread of new variants of coronavirus disease (COVID-19), according to a city official.
Generose Tecson, City Tourism Operations Office (CTOO) officer-in-charge, said on July 19 during the Madayaw Davao Program of the Davao City Disaster Radio, that PR8659 from Dubai, United Arab Emirates landed at 9 a.m. on July 18 at the Francisco Bangoy International Airport. 
Passengers were required to be swabbed 48 hours before the flight and present negative RTPCR results in accordance to the City Ordinance No. 0477-21, Series of 2021 or the mandatory testing prior to entry into Davao City via the Davao International Airport.
On July 15, a total of 134 OFWs from Dhaka, Bangladesh arrived in the city. She said the Department of Foreign Affairs is thankful that the city government received them considering that some of the passengers have been stranded in Dubai for more than three months already.
As part of the Inter-Agency Task Force for the Management of Emerging Infectious Diseases (IATF-EID), the OFWs and ROFs will undergo a 14-day quarantine here in Davao City before proceeding to their final destinations.
"We do a 14-day quarantine kay para masigurado talaga natin – yan kasi yong idle (time) ng COVID so masisigurado natin na wala silang sakit. They are swabbed on the seventh day after their arrival," she said.
She further stressed that hotel isolation facilities were already prepared and inspected with 24 hours security. The security personnel are also positioned in exit areas.
In the quarantine facility, they also ensure that OFWs and ROFs are situated on the higher floors. For instance, if the designated hotel has ten floors; only the seventh to the tenth floor shall be occupied. The elevators will be limited only to the floors without the occupants.
For the OFWs, the Overseas Workers Welfare Administration (OWWA) will shoulder the expenses while the national government will cover the swabbing to ease their burden. However, ROFs will have to pay for the quarantine facility and their swabbing.
The official said that another batch of OFWs is coming. They are just setting up the next flight since there are still available quarantine facilities.
On the other hand, Mayor Sara Duterte said on Monday said that there are a total of 1,078 rooms in various hotels in Davao City that are ready to cater to repatriated OFWs and ROFs.
Duterte said that after they finish the required number of the quarantine period and are cleared of COVID-19, another flight will be accepted to ensure that there is enough space for them. This initiative will help the OFWs and the hospitality industry.
"After this, every 14 days na after because mao rana ang capacity sa atoang designated nga kwarto. We only have 1,078 rooms for this. Mahuman sa ang 14 days and then ma-clear, malimpyohan ang facilities then pwede napod ta mudawat ug arrivals for the next 14 days (After this batch, we will accept OFWs and ROFs every after 14 days since we only have 1,078 available rooms for them. After the 14-day quarantine, after they were cleared, we will accept another arrival for the next 14 days), " Duterte said.