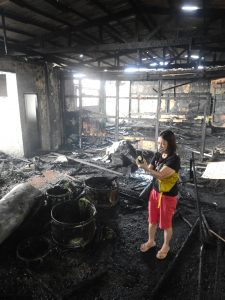 A 76-YEAR-OLD man was recovered from the rubble and ashes as a huge fire razed more than 100 houses in Punta Dumalag I, Barangay Matina Aplaya at 5:07 p.m. on Saturday.
Senior Fire Officer 4 Ramil Gillado,  investigation and intelligence chief of the Bureau of Fire and Protection XI, identified the victim as Reynaldo Salinas.
"Ang 76-year-old diha sa iyahang rented room nag-start ang sunog ug wala na siya kagawas, wala na siya natulog ( The fire started at the rented room of the 76-year-old man was not able to go out of his rented room. He was not sleeping that time)," Gillado said.
According to the report, the fire started at the house of Aida Maceda and quickly spread to the neighboring houses. The Diego Silang Elementary School was totally destroyed. Immediately firefighters and volunteers responded to the fire scene that can already be seen from afar. The possible cause was unattended cooking.
He said more or less 400 families were affected. Firefighters already declared a fire-out by 9:50 p.m. of the same day.
Just ten days ago, a Chinese national was found dead when a fire hit a storage warehouse in Purok 1-A, Bunawan Proper, Bunawan District at 10:40 a.m. on July 5.
Gillado identified him as Chen Wei Ping, a visitor of the owner of SLK corporation. The facility was owned by Kim Lin of SLK corporation. Gillado said, Gang Lin, a civilian employee was injured during the incident.