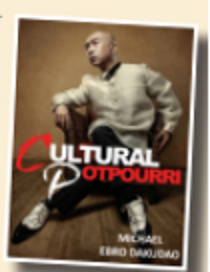 DAVAO'S iconic hotel which is situated in the best location by the Davao Gulf is now celebrating its 60th year.  And yes, considered as one of Davao City's pioneers in the hotel industry it has witnessed and contributed to the growth and progress of Davao City in its important role in providing "excellent service and authentic Filipino hospitality."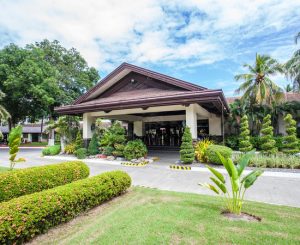 "No one can deny the fact that the Waterfront Insular Hotel Davao stands proud today as this hotel has been actively playing its special part in the history of Davao City, be it in politics, economic development, arts and cultural advancement, and in finding that elusive peace in our Mindanao region," so claims Waterfront Insular Hotel Davao's OIC for Hotel Operations, Jennifer Ricardo-Romero.
    First established in 1961 by Manila investors led by the country's business tycoons namely Don Enrique J. Zobel (1927-2004) and Don Jaime Zobel de Ayala, the hotel's then modern structure was designed by the late National Artist for Architecture (1990), Leandro Valencia Locsin (1928-1994).  Locsin's then novel resort-hotel concept included a well-landscaped, sprawling garden which soon became the favorite place to relax and people watch by elite Davaoenos.  The original hotel was then named Islandia Hotel when it started operating in September 1, 1961.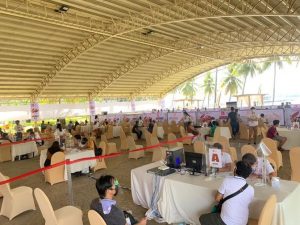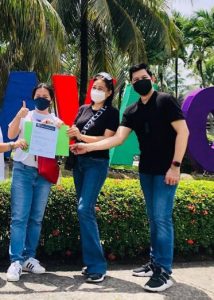 A year after, the Ayalas changed the name of the hotel to Davao Insular Hotel.  In 1980 when the hotel was put under the management of the InterContinental Hotels, it was again renamed as Davao Insular InterContinental Inn.  By 1991, the name of the hotel was again changed to Insular Hotel Davao.  When the Century Hotels took over the management in 1994, the hotel became known as Insular Century Hotel.  In 1999, the Ayalas sold the hotel to the Gatchalian family's  Waterfront Philippines, Incorporated, which is an investment holding company for hotel, leisure and tourism business.  When the iconic hotel which blends harmoniously with the lush greenery surrounding it plus the pleasing beachfront was reopened by the Gatchalian family in 1999, it has been known since then as the Waterfront Insular Hotel Davao.
     "This year 2021, an unfortunate time when businesses are facing economic challenges owing to the Covid pandemic, the Waterfront Insular Hotel Davao continues to operate not only for the sole purpose of providing good service to its loyal patrons, but to also to provide job security and financial stability to its employees…With the hotel celebrating its 60th founding year, the management headed by the Gatchalian family made the admirable decision to be of service to more Davaoenos by applying for a 'Multi-Use Accreditation' to enable the hotel to provide safe accommodations to both quarantine and non-quarantine guests," revealed Jennifer Ricardo-Romero.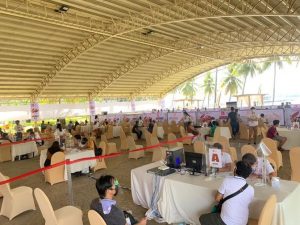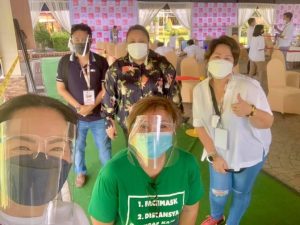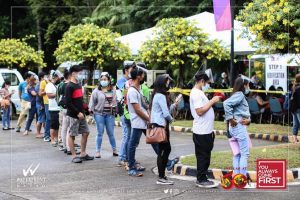 What could be a more benevolent manner to celebrate Waterfront Insular Hotel's 60th year than  partnering with the City Government of Davao, the Davao Tourism Association (DATA), private sector volunteers and other organizations for a worthy cause.  For two weeks, the hotel's Garden Pavilion became the venue for the "Bakuna by the Sea," a vaccination program for Davao City's tourism sector workers numbering 7000.  The scheduled vaccination program was held from June 30 – July 10, 2021.  The first day of vaccination saw the happy attendance of Waterfront Insular Hotel Davao's Jennifer Ricardo-Romero, City Tourism Operations Office's GeneRose Tecson, DOT Reg. XI Director Tanya Rabat-Tan, City Health Office's Dr. Ashley Lopez, City Health Office Vaccination Cluster Head Dr. Josephine Villafuerte, my fave DATA President Cherry Faye Banquil Al-ag, Vaccination Team Leader Eleanor Marcelino, Zegen Management Company's Candice R.Protacio and Anna Q. Magnaye, and Social Event Industry's Annie Paz Lim and Christopher P. Ledesma.
     The President of Waterfront Philippines, Inc. Kenneth T. Gatchalian expressed his undying support and gratitude to the local government units and its partners for the opportunity of allowing the  Waterfront Insular Hotel Davao to give back to the community.  "We believe that the valuable vaccination effort constitutes a critical point to economic recovery; and by supporting this worthy endeavor, we are ensured that all shall rise from this pandemic," said Gatchalian.
     "I am very happy that the Waterfront Insular Hotel on its 60th Anniversary volunteered to sponsor the logistics for this activity.  This is really private sector led…This vaccination program only goes to show that in Davao City, we have a beautiful working relationship between the private sector and the city government," remarked City Tourism OIC GeneRose Tecson.
     "I do understand that we are still in a difficult and very challenging times.  The desire to recover and to restart is there; and one powerful way to do it is to get ourselves and our people vaccinated," so stated the hardworking but always smiling DATA President Cherry Faye Banquil Al-ag.
    Let's bring this horrible pandemic under control.  Please let us have ourselves vaccinated so we can save lives, restore our economy, and bring back the kind of life as we know it.