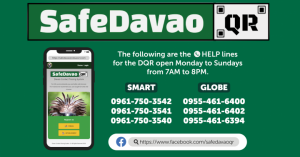 THE city government is finalizing the integration of the vaccination program with the Safe Davao Quick REsponse (Safe Davao QR) Code system, a top official said.
Lemuel Ortonio, City Human Resource and Management Office head, said the system might eventually be used as a proof of vaccination or "vaccine passport."
Ortonio said the plan is for the city government to use the online system only in the vaccination registration and scheduling as those that have registered will be informed of their schedules through text.
"With the final testing of our vaccination component sa atong DQR, it will already be automated ang pagsend sa tanang vaccinees kanus-a ang ilang schedule and asa pud ang ilang schedule," Ortonio said.
The code system will also eventually be used as proof that the person has been vaccinated as well as the brand of vaccines.
He explained that those who have been vaccinated before the integration, their key information will be encoded. "The back-end of the DQR will facilitate that, we are now studying how it is going to be done," Ortonio said.
Another purpose is for the code to be used in the swab testing of those individuals identified as exposed to those infected with the COVID-19 virus.
Ortonio added that the team developing the system is set to show the proposal to link it with other code systems in other areas.