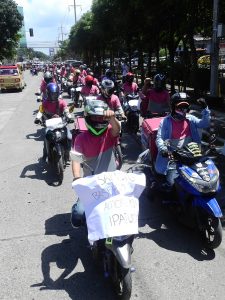 ABOUT 300 riders of food delivery service foodpanda held a lightning protest to air their grievances against the company for unclear policies in computing their earnings as well as for deactivating the access for some of them in accessing the deliveries.
Glen Costan, spokesperson of the Davao Untied Delivery Riders Association Inc., told TIMES that they have been complaining before the office of the delivery company in the city, but its officials have not faced them.
"We have been telling them of our complaints since last year, but they have not faced us, so we resorted to this (protest)," Costan said.
He said that while they are exposing themselves to the danger of getting infected by the COVID-19 virus, their compensation is left much to be desired.
In their statement also sent to the media, a copy of which was obtained by TIMES, they called on President Rodrigo Duterte, Senator Christopher Lawrence Go and Mayor Sara Z. Duterte to help them in their plight.
TIMES tried to get in touch with both the office in the city as well as their main office in Makati City, but has not received a reply as this story was being written. 
Their main complaint he said, is that since November 2019, the company has reduced their earnings by more than one-half, citing an example that a Batch 1 rider could previously receive P75 on average for delivery. At present, the same person can only receive a maximum of P28.
"We are not asking for anything more than what we deserve. But we must know how the computation is done," he said, adding that the management must show the basis of the computation.
Riders are classified by batch, which has four rungs, based on their performances, including as factor the rates that the customers give them.
Although he explained that the delivery payment of a customer is dependent on the distance between the customer and the restaurant or store, Costan said the drivers only get a portion of it on a fixed rate based on a computation that they do not know.
He added that another grievance they have against the company is that it removed the access to the application exclusive for its drivers in the city. "It is like they are killing our livelihood slowly even in this pandemic," he said, adding that the access was taken out on July 13 and July 14 even without basis.
The statement pointed out the management of the company added that some of them were even threatened to be fired even when there was no basis.
Costan also added that they were complaining against the P280 a month deducted from them as payment of their insurance policy even they did not hold any document to prove it. He cited a case of a driver who suffered an accident but failed to access the policy.
He added that from a high of about 3,000 riders at the start, only about 1,400 have remained with the delivery company as many have decided to leave because of these complaints.
In their statement, they pointed out the increase in the price of petroleum products as among those that have impact their livelihood, and that despite this challenge, the management has continued to ignore their complaint.
"It was a huge slap on us who have been working everyday but are receiving just the crumbs while foodpanda is devouring a huge income especially in this pandemic where food delivery service has grown," it added.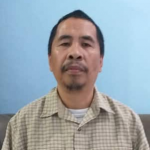 Managing Editor at Mindanao Times