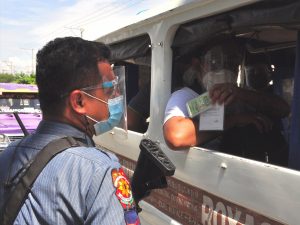 LAW enforcers arrested about 40,000 violators of policies implemented to curb the spread of COVID-19 between June 5 and July 14, or during the implementation of the Modified Enhanced Community Quarantine (MECQ).
Based on the record of the Davao City Police Office (DCPO), among those collared were 5,596 violators for curfew, 57 for liquor ban, 9,342 for social distancing and mass gathering, 10,913 for face mask and 11, 336 for face shield.
Also arrested were 2,336 for pillion-riding without barrier and 1,537 for non- essential movement.
At the checkpoint in Marilog, law enforcers also arrested 14 who presented bogus reverse transcription-polymerase chain reaction results so they could enter the city. These individuals face the possibility of facing criminal complaints before the courts.
Captain Rosario Aguilar, DCPO spokesperson, said the office will continue arresting those will violate the policies.
However, Aguilar said the personnel of the office will continue reminding the residents to follow the minimum standard health protocols in establishments, government or otherwise, and in other public places.