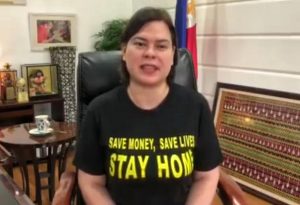 MAYOR Sara Duterte on Monday said passengers of international repatriation flights who are arriving in the city will be required to follow strict health protocols and must stay in the bubble provided for them.
The mayor made the statement to allay fears of a possible surge in COVID-19 cases due to these incoming flights.
This developed as the mayor confirmed that flights from Dubai, United Arab Emirates (UAE) and Dhaka, Bangladesh are arriving and these are for repatriated overseas Filipino workers. Only international flights carrying repatriated Filipino workers are allowed to enter the city.
"Gikan sa airport padulong sa ilang isolation hotel, and didto na nila buhaton ang kinahanglan nga process," she explained, adding that the passengers are paying for their accommodation and that this will also help the ailing economy of the city.
Last week, City Tourism Operations Office chief Regina Rosa Tecson said the Department of Tourism inspected 1,079 rooms in 20 hotels for these arriving individuals.
"We prioritized multi-use or quarantine facilities, the Department of Tourism made the inspection and there are protocols followed to qualify," Tecson said, adding that inspection of areas for isolation of travelers infected with the virus is still ongoing.
Under the protocols, she said, these individuals will be made to undergo 10 days of quarantine and will be tested on the seventh day. Those found negative of the virus will be allowed to go home.
Also, Tecson pointed out that vaccination of workers of the hotels and other tourism-related establishments has started with about 1,700 getting their first shots as of July 9.
Both the mayor and Tecson are hopeful that the entry of international flights, although only those carrying repatriated Filipinos are allowed, will slowly help the tourism industry.
She also urged the public to continue complying with health standards as the industry is looking at gradually resuming its activities.