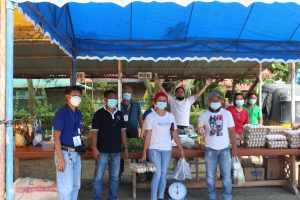 THE Department of Trade and Industry (DTI) in Region 11 has continued with its commitment to provide basic necessities and prime commodities at reasonable prices, serving even the farthest barangays, amid the pandemic. 
Through one of its regular programs, the Presyo Diskwento Caravan (PDC), the agency is able to reach consumers in the far-flung areas to offer several goods at prices more affordable to them. It has also partnered with the Kadiwa Rolling Store of the Department of Agriculture (DA) 11 and the local government units (LGUs) to offer more basic necessities and prime commodities (BNPCs) and agricultural products in each area they visit. 
DTI 11 Regional Director Maria Belenda Q. Ambi shared that with DTI's twin mandate, they do not focus on business development alone since they are also keen on empowering and protecting consumers. The second responsibility, she explained, encompasses various initiatives and interventions for the benefit of the general public. 
"All of use are consumers; therefore, everyone is DTI's client when it comes to consumer empowerment and protection. With the Presyo Diskwento Caravan program, we are given the opportunity to serve more consumers, especially those who have difficulty accessing their needs due to economic or proximity-related reasons. But with the PDC, we get to bring closer to them different BNPCs and agricultural produce at lower prices," the local trade official said. 
Among the products available at the PDC are canned goods, such as sardines and corned beef, powdered milk, coffee, noodles, and condiments. In the meantime, DA 11 brings fruits, vegetables, and other fresh produce. 
"With the crisis that we have been facing for more than a year now, the PDC is one of the many ways we are looking at to bolster the confidence of consumers that we have a stable supply of BNPCs in the region, particularly during a community quarantine," Ambi noted.  
From January this year, DTI 11 has already benefited a total of 419 households in Davao City and Davao del Norte. Apart from them, the PDC is also a venue for the 42 retailers and manufacturers to earn while extending a hand to the consumers by offering discounts. They generated an aggregate sales of Php 217,806.75 during the two different caravans. 
Meanwhile, Ambi emphasized that the minimum public health standards, particularly the wearing of masks and face shields, sanitation, and keeping the social distancing, were strictly imposed and followed during the PDCs.  
"Our utmost gratitude to the LGUs who really helped us in ensuring that the PDCs we conducted were orderly. We also appreciate DA 11's support as we were able to offer more products because of them," Ambi said. 
The office of DTI 11 is set to hold at least two more PDCs until the end of 2021.PR