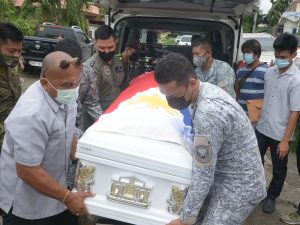 THE REMAINS of 1Lt. Sheena Alexandrea F. Tato arrived at the Tactical Operations Wing Eastern Mindanao-Davao Air Station (TowEastMin) at 7:20 a.m. yesterday via the C-295 aircraft of the Philippine Air Force. 
Full military honors were conducted to the military nurse at the old ramp of the former Davao International Airport. The honors were hosted by TowEastMin led by its deputy wing commander, Col. Jesus Nelson B. Morales. 
The remains were being brought to St. Peter Funeral Homes at Ecoland, Davao City for her wake immediately after the arrival at Davao Air Station.
1Lt. Tato was a proud military nurse of the Philippine Air Force assigned at Air Force General Hospital, 520th Air Base Wing, in Col. Jesus Villamor Air Base, Pasay City as a Nurse-In-Charge of the Air Evacuation Section. She was commissioned as an officer on December 1, 2015, with flying colors and was one of the top students in her class. (TowEastMin PIO)