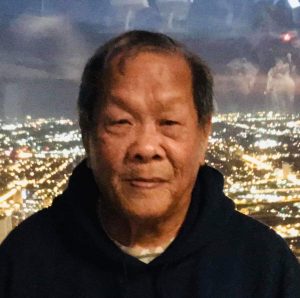 I GOT an invitation from my son Jeck to go to Canada where he, his wife and two daughters are now permanently residing for a decade. "Gusto mo bumiyahe pa Canada?" said his message.
As of this writing, I'm not sure if I will accept the invitation. While there's the will to go,  the almost 23-hour trip by plane may be too strenuous for me because of my age. So I told Jeck, "pag-aaralan ko muna ang invitation mo."  
I was on a vacation with Jeck's younger sister Tala in the US from April to August of 2019 when I acquired a USCIS permanent resident card, otherwise known as Green Card. The Green Card authorizes me to legally live and work in the US or travel to Canada by just using the same card to be able to enter this country. 
But when I returned here and planned again to go back to US to work on my US citizenship, Covid-19 spoiled my trip abroad as Davao City was on lockdown and with strict quarantine rules. I decided to stay put and thought of giving up America for good.
My Green Card will expire on April 2029 yet but because I stayed here for more than a year now I do not know if I already violated some conditions of the card, especially on leaving and reentering the United States as a Permanent Resident. The condition says, "As a permanent resident, you are allowed to leave and re-enter the US multiple times as long as you do not stay outside of the US for one year or more. Note however that although brief travels abroad does not affect your permanent resident status, if the USCIS believes that you do not intend to make US your permanent residence even for trips of less than one year, this may be considered as an abandonment of your status."
It is not my intention to violate any of the conditions in the card. No one expects that the government will suddenly impose a travel ban on its citizens due to Covid-19 that affected my plan. Maybe the USCIS will see the bright side of it that it is not a violation on my part but beyond anybody's expectation to be locked down in your own backyard.
Meanwhile, Jeck and Tala are supposed to be on their annual vacation trips here but also decided to forgo their travel for fear that their vacation days will only be spent in quarantine rooms because of the government's strict implementation of health protocols on foreign nationals.
Just recently the Bureau of Immigration (BI) warned "foreign nationals who would not be able to present their quarantine bookings are deemed improperly documented even if they have the required documentary proof of vaccination upon arrival."
Pastilan, dapat malaman ng ating BI na sa America or Canada pa lamang ay hindi na makakalusot ang mga ganitong "improperly documented" travelers or those who "present fake bookings" because these two countries do not hire dishonest immigration personnel. 
Anyway, hindi pa naman ako nagsasalita ng patapos. Baka magbago pa isip ko at bumalik sa US or accept Jeck's invitation to go to Canada. Baka bumalik na tayo sa dating normal na buhay now that no less than Presidential Spokesperson Harry Roque said in an online press briefing that he is confident that Filipinos will still experience a "better" Christmas this year despite the presence of a more infectious Delta coronavirus disease 2019 variant."
Sana magkatotoo ang kanyang sinabi at hindi puro  pamulitika na lang!
Speaking of Christmas, my son also informed me that his 14-year-old talented daughter Tatianna will again perform her next project for December, 2021 in Canada. Tati was a solo performer during the Philippine Cultural Heritage Society 1st Virtual Festival on the occasion of the 123rd Philippine Independence and the 3rd Philippine Heritage Month celebration in Canada sponsored by GMA Pinoy TV and viewed here and abroad. Ang galing talaga ng apo ko.
                                              -o0o-
Covid-19 cases continue to rise across the globe and scientists believe the new variant first identified in India as Delta variant may be twice as transmissible as the original coronavirus, and its potential to infect some partially vaccinated people. 
But while medical authorities are alarmed by this new discovery and threat to human health, some ambitious politicians seem unaware of it and are now on the road again to let the people know they are here despite the fact that the national elections is yet a year away.