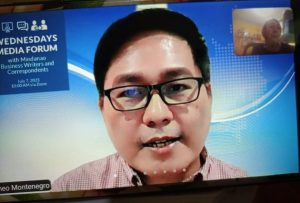 MINDANAO Development Authority (MINDA) gathered business writers and correspondents in a media forum to highlight various concerns that we have to bear in mind, including the following:
– COVID-19 is still here and alive
– The market remains jittery
– Changing consumer perspective is evident
–  Families are becoming thrift spenders
– Demand has grown for food and essentials
– More transactions are done online
– There is a new take on the logistics chain.
Romeo Montenegro, deputy executive director, says that the country experienced a downturn and lunged to negative but has fared better than the national average.
Inflation rates as shown in a graph as of June 2021 posted the Philippines at 4.1, while Mindanao posted 3.8.
Montenegro announced that the Agriculture & Fisheries Sector has sustained 60 percent of GDP for the economy of the country, supported by the National Government in terms of infrastructure development.
Citing Mindanao's resiliency during this period of the pandemic, Montenegro mentions these growth drivers: 
  – Wholesale and retail business
–  Agribusiness
– Transport and logistics
–  IT/BPM
-. Construction
-. Manufacturing
Among the realizations indicating an increase in economic activities are traffic situations similar to pre-covid times and the ample supply of power in Mindanao. Vegetable farms are now existing in Bukidnon and Agusan del Sur, proving that Mindanao is the Food Basket of the country.