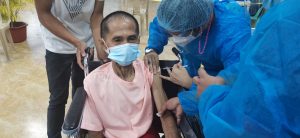 TAGUM CITY  – In its quest to achieve herd immunity and to protect the most vulnerable, the City Government of Tagum partnered up once again with the Department of Social Welfare and Development Office Region XI in vaccinating senior citizens housed in their Home for the Aged facility in barangay Visayan Village.
Thirty-nine abandoned and neglected senior citizens who are staying at the Home for the Aged facility of DSWD XI got the opportunity to become protected from the deadly virus yesterday, June 30, 2021, with their first dose of Sinovac vaccine. 11 of the 50 total residents are deferred due to their health conditions/medicines but will still receive their jabs later during the vaccination for the second dose.
Candelaria Tingson, the manager of the facility extends her gratefulness to the government particularly to the City Health Office (CHO) of Tagum for including the senior citizens at the center in this lifesaving initiative.
She further stated that the government sees everyone as equal despite various differences in socioeconomic status and therefore should receive equal social service such as vaccination to protect and save the lives of the most vulnerable in society.
Likewise, the CHO of Tagum mobile vaccination team will continue its vaccination drive to the Bureau of Jail Management and Penology located at barangay Canocotan next week to administer the COVID-19 vaccine to persons deprived of liberty.
Meanwhile, Tagum will be under Modified Enhanced Community Quarantine starting July 1 despite the ongoing aggressive vaccination drive after the region recorded a spike in its COVID-19 cases.
However, the local government unit remains hopeful that everything will be back to normal after logging 92% completion on health care workers, 46% completion on senior citizens, 5,313 persons vaccinated under persons with comorbidities priority groups for the first dose of the COVID-19 vaccine. PR