AMONG the usual ayuda comida distributed by the government during quarantine periods is the convenient and ready-to-eat sardinas enlatadas or canned sardines.  Filipinos enjoy eating sardines straight from the can or bottle or its usual sauteed version paired with rice. A can of sardines maybe a lifesaver during these difficult times of the Covid epidemic because it is accessible and affordable.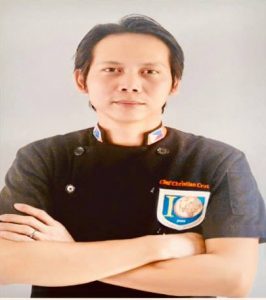 The health benefits of sardines are known for their high levels of unsaturated fats which help to regulate cholesterol levels and prevent the onset of cardiovascular diseases.  A recent study has discovered that the regular consumption of sardines helps to prevent type 2 diabetes as well.  Sardines also contain high quantities of taurine, omega 3, calcium and vitamin D which help fight against diseases as well as develop  a healthy heart, sturdy bones and strong muscles.
      Zamboanga City is the Sardines Capital of the Philippines with 11 out of the 12 sardines companies in the country established and operating there.  These sardine canning plants namely 555, Atami, Century, Family's, Hakone, Ligo, Mega, Master, Rose Bowl, Rose Bowl Gold, and Uni-Pak, have an estimated combined annual production worth 1.5 billion pesos.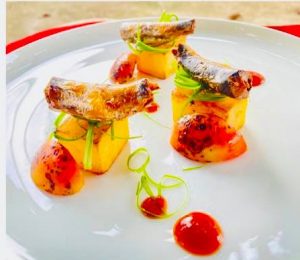 "Looking at the bright side of life, this Covid pandemic has given us the opportunity to spend more time together with our family at home; and clearing our calendars of social and business gatherings and entertainment schedules we were once so accustomed to. 
Yes, the opportunity to strengthen ties and build better relationships through spending more meal times with our family in the safety and comfort of our own home is now given to us.  From breakfast, lunch and dinner plus mid-morning and afternoon snacks, we now have the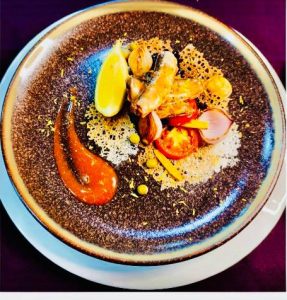 ood time to prepare and cook our very own homemade meals," declares the indefatigable advocate of good education, Joji Ilagan-Bian.  Joji Ilagan-Bian is, of course, the chairperson of the Joji Ilagan Bian International Schools; as she is also the Honorary Consul of Bangladesh in Mindanao.
     "This pandemic gives us the precious time to enjoy every minute of sharing our family meals but also inspires us to be more artistic with our tablescape using our special dinnerware and flatware; plus having themes in food plating using varying presentation techniques like a wannabe Martha Stewart.  It was during one merienda time when I came face to face with my favorite sardines in tomato sauce that I suddenly felt the urge to send a message to my two young chef trainers in the ICHEF Culinary Schools in Davao and GenSan.  I instructed chefs Philip "Pepot" Diaz and Christian Cruz to 'deconstruct' the sardines in tomato sauce and do some culinary twists in their preparation. I wanted for them to create a simple gastronomic delight that would 'glamorize' the otherwise simple sardines; and make their dishes more pleasant to look at like haute cuisine," narrated dear Joji.
     Chef Pepot Diaz is an alumnus of ICHEF and armed with culinary certificates from Australia and the Culinary Institute of America (New York).  The young chef once worked at the Holland American Cruise Line.  Chef Christian Cruz, on the other hand, gained his culinary experience by working in various hotels and restaurants for the past 15 years.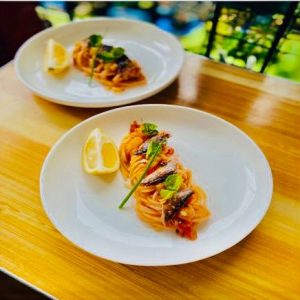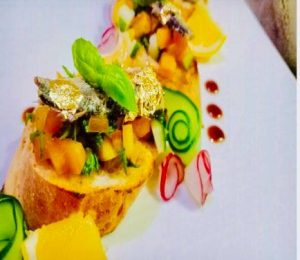 "The chefs did not fail my culinary expectations of them.  They are indeed good chefs using their heart in creating food; and masters of their own skilled hands in bringing soul to what otherwise is the simple sardines in tomato sauce.  They were given only sixty minutes to produce their sardine masterpieces and to send the pictures to me within an hour.  I so love sardines.  Who does not?  Yes, even my Consular amigas like Hungarian Consul Baby Maceda-Montemayor, Mexican Consul Malou Garcia-Monteverde, and Spanish Consul Naty Rodriguez-Fortich plus the restaurateur Lena Benedicto all love sardines.  Let us enjoy the blessings in our life, including sardines, no matter how simple they are.  We still have a lot to be grateful about despite this unfortunate Covid pandemic in our midst.  God bless us all," said the fashionably dressed ICHEF Culinary Schools' chairperson, Purita Arsenia "Joji" Ilagan-Bian, in ending the interview.
       Indeed, food is one component to connect ourselves with each other, especially with our family.