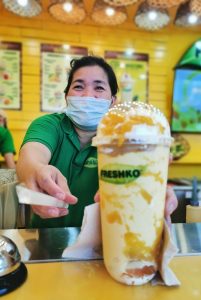 CANADIAN philosopher, Entrepreneur, and author Matshona Dhliwayo said it best: "Today's tears water tomorrow's gardens." 
It took Andro and Marylou Gerondio of Toril, Davao City 18 years to finally see their years of hard work bear the proverbial fruits. During our recent visit to their latest store, the couple recalled how FreshKo, their thriving homegrown fruit shake company, literally got them from ground up. 
"We started in a mini-market along Magallanes Street that the City Agriculturist Office initiated for small farmers. However, with not enough supply, we were only able to sell vegetables that we harvested from our backyard for 3 days," recalled Marylou. 
Then one unfortunate incident happened: Andro accidentally fell 30 feet down from a lanzones tree. 
"I had 5 cracked ribs. Luckily, my spine was spared but I was incapacitated for about a year," Andro said. 
Marylou had to take over the reigns, looking after their then four month old son and her hospitalized husband while finding ways to make ends meet. With no other source of income, she tried all sorts of hustle for months – from consigning home-made pulvoron in sari-sari stores to peddling various merchandise just to get by. 
Then came one fortuitous day in 2003 that changed their lives forever. 
"Our mother gave us PhP200, which I used to make and sell fruit shakes during the two-day Araw ng Barangay Bangkas Heights in Toril District," she said. 
With just papaya and ube (that she plucked from their backyard) and a borrowed blender, she peddled her fruit shakes for PhP5 and PhP10 a cup. To her surprise, she sold everything in less than a day. 
"I was really stoked. So I used my earnings that day to buy mangoes, and made mango shake the next day," Marylou recollected. 
In just two days, she was able to profit PhP5,000, which she immediately used to pay rent for a stall along Magallanes Street. This time, instead of selling vegetables for three days, she vended her bestselling shakes every single day.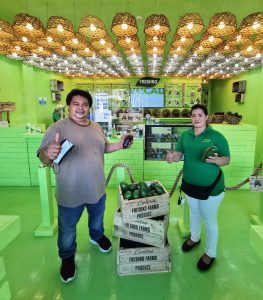 "That's when we realized that pursuing this business wasn't easy but it taught us a lot of lessons," Andro said. 
It also rewarded them from all their hard labor. From a measly daily earning of PhP400 a day, their daily income surged  to PhP2,000. During trade fairs, such Kadayawan, and in events around Mindanao, they would earn up to PhP25,000 daily. 
"I realized that if you really pray really hard and from the heart, God will never leave you. I only asked Him that we would, at least, earn PhP10 to buy salt and vetsin since we already have 'malunggay' in our backyard. But God gave us more than we asked for and we are very grateful, " shared Marylou. 
After officially christening their business to FreshKo in 2015, the couple opened their first store in Matina adjacent to GSIS. 
For the next couple of years, Dabawenyos continue to enjoy their bestselling mango, avocado, durian and buko shakes. Then, in last year's lockdown due to Covid-19, they started receiving orders coming from as far as Cabantian, Maa and Buhangin. 
"We had to do the deliveries ourselves since our riders were unable to cope with the demand. That's when we decided to open more outlets," said Andro.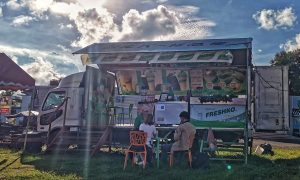 Since the start of the pandemic, the Gerondios opened 7 stores including their first Mango concept store in Toril last April 18 and Avocado concept store in Matina Crossing last June 18. They're set to open their Durian and Buko concept stores later this year. They also planned to open FreshKo for franchise once they have thoroughly studied the system. 
"We will open a total of 12 outlets this year as we celebrate our 18 years in the business," Marylou added.
To support their endeavors, they acquired about 50 hectares of farm land in Lubogan, Toril, which also afforded them to bring down prices and assured them of fresh harvest. 
"We are also happy that we're helping our local farmers," Andro said. 
The couple might have undergone a lot of personal ordeals to get this far, from workplace emergencies, a vehicular accident, health problems, and even got duped by people they trusted – but they never gave up. 
"We just stick with our plans and continue to work, no matter how hard it gets," quipped Marylou. 
The Gerondios aspire to open 100 FreshKo outlets in the next 5 years. Next year, they hope to operate in the Visayas, then after 2 years, in Metro Manila. They have also set their mind on conquering the international market real soon.