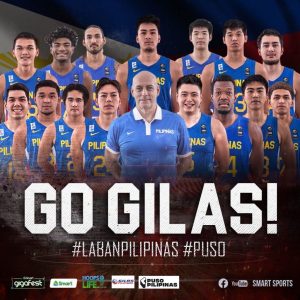 THE stage is set for team Gilas Pilipinas when they see action in this year's Olympic Qualifying Tournament (OQT) in Belgrade, Serbia.
The national team will be led by headcoach Tab Baldwin and its young core anchored by naturalized center Ange Kouame, all-around player Dwight Ramos and seven foot three 19 year-old Kai Sotto, in its bid for a much-desired stint in the Tokyo Olympics.
The competition tips off on June 30 to July 2 with Gilas Pilpinas hoping to pull an upset next to world no. 5 and host Serbia on Thursday at 2:15 a.m. (Manila time) and world no. 19 Dominican Republic, a day later set at 2:30 a.m. (Manila time).
Serbia which is ranked no. 5 in the world and will have NBA Dallas Mavericks giant Boban Marjanovic in its roster, along with  Nemanja Bjelica of the Miami Heat and promising draftee Filip Petrusev.
Dominican Republic, on the other hand,  is ranked 19 in the world and will parade its cast having Victor Liz and Gelvis Solano, and center Eloy Vargas with all having an average height of six foot five.
Full schedule on One Sports, ch. 41 on free TV, ch. 6 on Cignal TV, and ch. 59 on Sky Cable
June 30, 10:30 p.m., Senegal vs. Italy (LIVE)
July 1, 2:15 a.m., Serbia vs. Philippines (LIVE)
July 1, 11:30 a.m., Senegal vs. Italy (REPLAY)
July 1, 4:30 p.m., Serbia vs. Philippines (REPLAY)
July 1, 10:30 p.m., Italy vs. Puerto Rico (LIVE)
July 2, 2:30 a.m., Philippines vs. Dominican Republic (LIVE)
July 2, 11:30 a.m., Italy vs. Puerto Rico (REPLAY)
July 2, 4:30 p.m., Philippines vs. Dominican Republic (REPLAY)
Full schedule on One Sports+, Cignal TV ch. 261 HD and ch. 91 SD
June 30, 10:30 p.m., Senegal vs. Italy (LIVE)
July 1, 2:15 a.m., Serbia vs. Philippines (LIVE)
July 1, 10 a.m., Serbia vs. Philippines (REPLAY)
July 1, 2 p.m., Senegal vs. Italy (REPLAY)
July 1, 6:30 p.m., Serbia vs. Philippines (REPLAY)
July 1, 10:30 p.m., Italy vs. Puerto Rico (LIVE)
July 2, 2:30 a.m., Philippines vs. Dominican Republic (LIVE)
July 2, 10 a.m., Philippines vs. Dominican Republic (REPLAY)
July 2, 2 p.m., Italy vs. Puerto Rico (REPLAY)
July 2, 6:30 p.m., Philippines vs. Dominican Republic (REPLAY)
(schedule courtesy of One Sports/Signal TV)