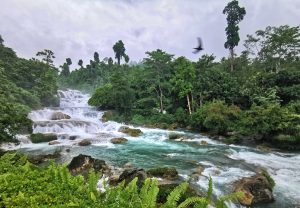 OUR recent journey around Davao Oriental took us to the municipality of Cateel. This laidback town near the tailend of Davao Region was where the Spanish explorers first landed in Mindanao.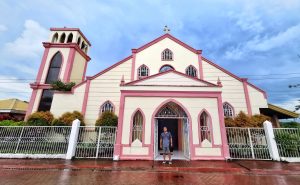 In 1582, the Spaniards explored the coast of Cateel, and docked at the mouth of Rio de Cateel or Cateel River. They say they christened the place "Cateel" after they found some members of the Mandaya tribe splitting rattan vine. Cateel is a type of rattan that was abundant in the area. 
One of the legacies of the Spaniards in Cateel was the construction of the Church of Señor Santiago Apóstol (St James the Apostle), which occupies one full block in the poblacion area. The church was built by the Spanish Jesuit missionary in 1894 on an official parochial decree, and was later remodeled by the Canadian PME missionary in 1952. In 1994, it was renovated by a Filipino diocesan clergy on the celebration of its centenary.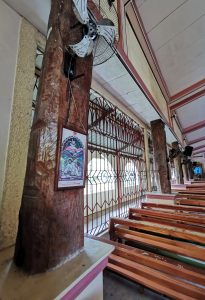 After Pablo ravaged Cateel in 2012, the more-than-a-century old tree trunk pillars of the church persevered, and are still on display to this day. The trunks were  gathered from distant barrios and brought to the poblacion on forced labor policy back in the day. The rest, as they say, is history.  
Perhaps, Cateel's most popular emerging destination right now is Cream Sand Long Beach, a 9-kilometer stretch of pristine, yellowish white colored beachline along barangays Baybay and San Antonio. 
During our stay at Dagat ni Tatay Beach Resort, we met Siargao-trained surfer Benedict, who teaches surfing to guests. Later, we found out that he is actually from Davao City. A thriving surfing community, the beach is likened to Luzon's San Juan in La Union. 
Cream Sand Long Beach may not be white – obviously – but it is immaculately clean and has one of the finest and softest sands my feet have ever sunk in. Resorts have started to mushroom in the area that even famous Canadian YouTuber Kulas has made it his second home.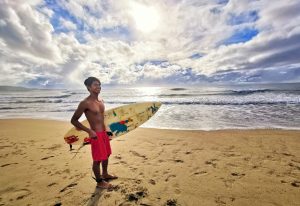 Of course, Cateel's crowning glory will always be the staircase-like Aliwagwag Falls. Unfortunately, it still closed to the public as it is undergoing renovations. This photogenic 84-tiered falls with more than 130 cascades stands at 1,110 feet, making it the highest in waterfall in the country.  
Post-Typhoon Pablo, Cateel bounced back with various dumang (processed chili) reincarnation of their local capsicum. The best showcase of dumang, along with other local produce, is Subangon Dumang Makers, a learning site on integrated-diversified farming headed by Ricky Arisola.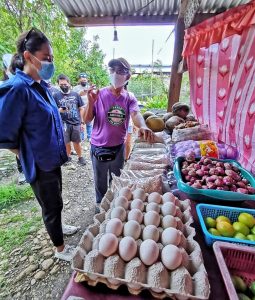 According to Arisola, chili, which was brought to the country during the Galleon Trade, thrives in Davao Oriental and Davao de Oro due to the limestone-rich soil and natural terrain of the areas. 
Municipal tourism officer Love Joy Serra shared that there are other destinations that they are preparing for tourism in Cateel, including an 8-kilometer cave in Lantawan, Aragon Dam in Cateel River (the largest in Mindanao), and Mantunao Eco Park in Taytayan. 
"We are making sure that these destinations are all ready to receive tourists safely as we move forward in the new normal," said Cateel Mayor Erlinda Nunez during our visit.