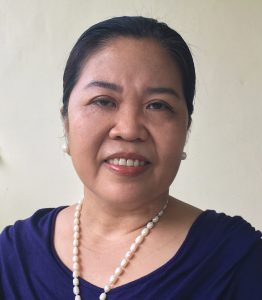 THE  role of a father in a child's life cannot be overemphasized. How we all wish that every person grew up with a father. But that's expectation vs reality. In my eagerness to explore more insights from this topic, I asked my niece, Pauline, whose father died when she was 9, how it is like to grow up without a father by her side.
"O, I never really felt fatherless growing up. I had my father's memories with me, and I bring them with me always, particularly in my most trying times and in my greatest moments."
Pauline Ferrero is a wife, a mother of two multi-talented children and a thriving career woman based in Davao City, who aspires to influence and make productive impacts through her skills, knowledge, creative outputs, and experience. How she rises above the absence of her father, especially during her life's milestones, is inspiring and worth sharing. So, here's her story: 
Growing up with a very caring father is an awesome privilege. Those who are still given the opportunity to celebrate milestones in life with their fathers as their greatest cheerers, supporters, motivators, and confidante is a great privilege. However, not all have that privilege. 
My father started being sickly when I was about 7-8 years old. He was never able to witness my graduation, my 18th birthday, my victories in school and at work, or my wedding day. However, even with a short period of time that he was a father to me, I have a lot of great memories.
He was my first chess teacher, my first teacher in folk songs and nursery rhymes, my idol in problem solving skills. He left me with tidbits of life lessons I would always treasure in my heart even as I have become a professional and mother myself.
Sometimes, it's not about the years of experience you have with your father. Most of the time it's about how those precious times you've had were spent together that would last you a lifetime.
My memory of my father was one in which he was always in front of some mechanical gadgets he would always work on. As a little curious kid, I would observe him and sometimes tinker with his tools and stuff and then get hurt. That's how I learned focus and persistence from him. I watched him play chess. That's how I learned strategic thinking and I didn't realize until my later years that he had already started imparting in me the value of strategic thinking. At most times, my father would really pamper me with balloons and girly stuff and how he would smile when I happily received those surprises. He was actually teaching me how to value myself.
Trusting and talking to God to guide me was always my go-to moment whenever I felt that I needed a father. It always works for me. I'd visit my father's grave at times to ease out some void or when I feel down. It works because I get reminded of how loving and thoughtful my father was when I was a kid. It gets me going again.
For those whose fathers died when they were young or those who never had the chance to know their father, don't get disheartened and don't let that fact ruin your future. There's always a wealth of people around you whom God sends to fill the gap and build you to become a great person. So, never feel that you lack as a person just because you never had a good father. Use that emptiness as a motivation to fill yourself with love and appreciation. Be kind, compassionate, understanding, loving, and considerate. These values taught and learned not just from parents but from people around you. Just pay attention.
When you feel that life is unfair and that your father should have been there for you, rise above. God is bigger than all your hurts, disappointments, fears, frustrations. HE can be your greatest ally, protector, confidante, provider, guide. Build a relationship with HIM. You'll realize that you would actually be just fine. 
To the fathers we love who are not with us anymore – Happy Father's Day!