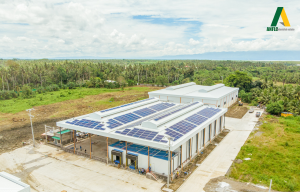 HOMEGROWN property developer Damosa Land Inc. has continued to expand the offerings of its Anflo Industrial Estate in Panabo City, Davao del Norte by adding a new cold storage facility.
The agro-industrial park located in a 63-hectare sprawling property has set in the new freezer rooms that are ready for occupancy.
The Floirendo-owned company's new project is expected to help plug gaps in the agricultural supply chain in Mindanao, particularly the need for more cold storage facilities necessary for companies looking for these facilities but can hardly find one.
What makes the facility perfectly positioned is that the industrial estate is strategically located between two key economic centers in the Davao Region – the cities of Davao and Tagum – as it helps spur agricultural development not just of the region but the entire Mindanao.
Cold storage facilities like this one have become a necessity in the middle of the COVID-19 pandemic because of the demand for specialized storage facilities for COVID-19 vaccines, food, and other essentials.
One key feature of the facility, and because the company is known for its sustainable footprints, is that it is powered by solar panels to help the company do its part in reducing carbon emissions.
The facility also complements the industrial space leasing business of the group as it is an ideal location for logistics companies that transport their products domestically or abroad as it is located adjacent to the group's ultramodern port, the Davao International Container Terminal.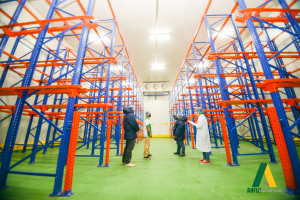 Its current freezer rooms are state-of-the-art and can accommodate locators who are looking for facilities with a temperature range of negative 18 to negative 25 degrees Celsius.
The cold storage warehouses are the latest milestones of the Philippine Economic Zone Authority-registered park as it offers modern facilities to manage clients' temperature-controlled requirements. 
The first completed phase of the facility can accommodate products that require an ultra-low temperature such as fish and seafood, meat, poultry, frozen food, ice cream, vaccines, and more.  
This new building houses 780 pallet positions within four freezer rooms.
The facility is ideal for food processing companies and distributors of finished products 
AIE is also continuously expanding the new facility as it is adding chiller rooms and blast freezers to accommodate a wider range of products such as fresh produce, fruits and vegetables, and cheese and dairy.
The facility also offers services that include freezer room rental, stuffing and unstuffing and product handling.