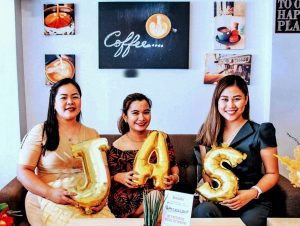 IT ALL started with a dream of three best friends and their undying love for coffee. 
"We're the type of people who'd hangout in cafes and stay up late, enjoying coffee," said JAS Caffeinated co-owner Shaira Berondo. 
It was right after the lifting of ECQ Iast year when Berondo, along with friends Jaril Aclo and Adora Borillo, saw the clamor of the quarantined public to go out and dine in more intimate settings. They saw this as an opportunity, so they started to create their business plan, then purchased coffee-making machines and other essential crockery for their dream cafe.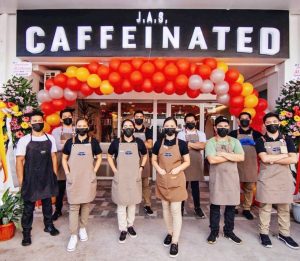 "We know coffee very well but we must admit, we were novices in the coffee shop business," she said. 
Both Berondo and Borillo belong to the pharmaceutical industry while Aclo's family is in the construction business. Together, they were doing online selling of imported goods, and joined bazaars during Araw ng Dabaw and Kadayawan as their side hustle. 
Over the course of setting up JAS Caffeinated (JAS is culled from their first names' initials) at RNC Bldg along JP Laurel Avenue, they realized that it would take some time for them to get their investment back if they just stick to offering coffee.
"So, we hired chefs and challenged them to come up with an exceptional menu," said Berondo.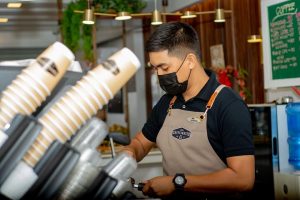 Surprisingly, when they opened the cafe to the public, it turned out that they got more repeat customers for their food.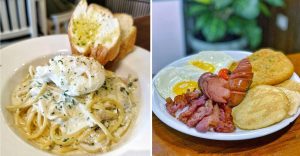 "Diners love our Baked and Grilled Salmon, Seafood Marinara, Spanish Sardine Pasta, Chicken Parmigiano, as well as our sandwiches," she proudly remarked.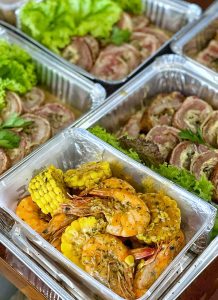 They also fancy their JAS Pasta, a specialty prepared with smoked bacon and shitake mushroom, then topped with poached egg. 
Their cafe opens at 6 AM daily to cater to diners who enjoy having breakfast after biking, jogging and doing their morning walk.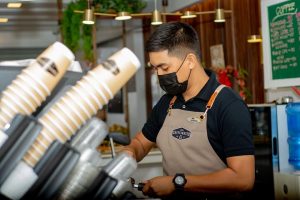 "As a treat, we offer them our morning coffee promo from 6 AM to 10 AM for only PhP99. Our breakfast meals also come with free hot chocolate or coffee," Berondo shared. 
For their coffee, they source their beans from farmers in Bukidnon. They're also the only stand-alone cafe that serves TWG teas, a high quality luxury tea brand. In addition, JAS Caffeinated serves smoothies, frappes and other non-coffee beverages, along with line-up of delectable desserts. 
Following health protocols, they are currently limiting their seating capacity and instead offer food-to-go meals and food trays (can be customized depending on preference and budget) for take-out and pickup/delivery through a rider service. 
"We never thought we'd thrive in this pandemic. I guess, if you just work hard to achieve your dreams, they will still come true no matter how challenging the situation may be," quipped Berondo.