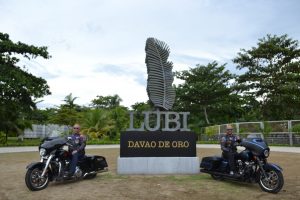 AN emerging island destination in Davao de Oro, Dusit Thani Lubi Plantation Resort welcomes the variety of high-end motorbikes along with the dedicated Dads of Harley-Davidson in the comforts of island living.
Dads have a more adventurous take on celebrating their day, especially when you are part of the Harley-Davidson family. Harley-Davidson of Davao is an authorized Harley-Davidson dealership company which opened back in 2019. It offers wide variety and models of high-end of bikes, original parts for motorcycle customization, branded apparel and riding gear, and best-in-class after-sales services. 
Getting their well-deserved break and ride out, members of Harley-Davidson Davao Chapter made sure they get a balance of nature and indulgence on this trip to Dusit Thani Lubi Plantation. Located in Davao de Oro which has perfect tropical weather all year round, Dusit Thani Lubi Plantation Resort is an island in the heart of Davao Gulf surrounded by coconut trees, white sand beaches and unique marine life. 
With an ideal mix of Filipino hospitality and Thai graciousness, the island was a perfect destination for a beachfront lunch treat and unwinding. As Hotel Manager Christoph Kuch would put it, "there's no better way to treat your Dad than to give him some time off the hustle. We are glad to welcome the team of Harley-Davidson here and enjoy the island breeze and delectable dishes from our team."
The team also did not miss out an island tour with their bikes. From the picture-worthy spots of the resort, to all the villas and facilities currently available, it was an opportunity to see Dusit Thani Lubi Plantation Resort on a different light. A hearty lunch followed, headed by the talented culinary team of Chef Alex Destriza from Tarictic Grill and Burger Bar & Restaurant. 
An ideal place for exclusive stays, destination weddings, and island dining, the resort embraces the wonders of nature by providing comfort and convenience at its finest. Utmost luxury and privacy can be experienced in the well-appointed seafront villas and deluxe rooms, with room types providing either a private terrace or plunge pool. 
In addition to water sports, a tranquil spa, a fully-equipped gym, cultural and natural tours, and delectable dining experiences, fun indoor and outdoor facilities such as tennis court, e-games centre, billiards, and recording studios are available for both couples and families to enjoy.
To reach the island, guests can choose between a 30-minute high-speed boat transfers from Dusit Davao City Jetty or a 60-minute luxury van shuttle featuring relaxing views while passing through Davao's banana and coconut plantations.