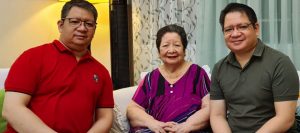 LACHI'S remains a veritable culinary institution of Davao City for 20 years now.  Like many food establishments that have mushroomed in this culinary center of Mindanao in the past years, Lachi's also started small as a home-based business operated with love and passion by a doting, talented and entrepreneurial mom, Milagros "Lachi" Baniquett Espinosa-Aviles (originally from Sta. Mesa, Manila), with the able support of her loving children.  I am truly happy that Lachi's, through its two decades of operation, has become a successful business run by a hands-on, closely knit family who has endeared itself to the numerous discerning foodies of Davao City through the long years.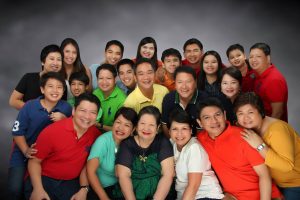 "Our mom, Lachi, always loved cooking and baking.  In the 1960's, she started giving food gifts to friends.  These handful of friends were happy with what she gave them and tried very hard to convince her to start her food business. The problem was that our dad didn't allow her to.  Finally in the 1970's, after some more hard convincing, dad had to concede.  Mom would take food and cake orders every now and then; but Christmas was the busiest time of the year for her to offer her special delights.  During that time, my family members would participate willingly to support mom in her hobby of a business:  dad was in-charge of packaging and purchasing; my two sisters were assigned baking chores; while us boys took care of curing ham, the aging of fruitcakes, and delivery services.  Yes, this was our Christmas tradition up to the 1980's," recalls the likeable Mike Aviles.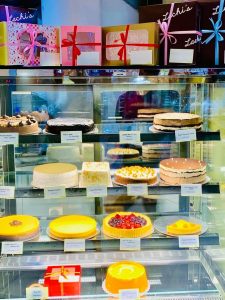 When four of the six Aviles children started working, the grandmother stepped in to tell tita Lachi to take off her apron to relax and stop her home-based business to give others the chance to start their own food business.  It was in 2001 when the twin siblings, Mike and Mel, decided to start their own cake shop cum restaurant business.  For them, it was to fulfill a promise they made earlier to their lovely mestiza mom.  "It was sometime in 1978 or 1979 when mom and us twins were dining in a local pizza parlor when mom noticed this modern cake chiller and told us she'd love to have one someday.  Us twins promised her that one day when we'd have enough money, we will get her one," recalls Mike.
    The first Lachi's opened its doors for business in June 8, 2001.  It was equipped with just one cake chiller which was actually a beverage chiller.  Happily, everyone in the Aviles family showed their support for the business through their active participation in marketing, production, recipe formulation, quality control and friendly customer service.  "The twins are always meticulous with the food preparation just as I am.  Lachi's is all about family home cooking of the old school.  What we offer at Lachi's is the same comfort food my family grew up eating especially on our Sunday lunch gatherings.  What makes my food special?  Well, definitely, it's love that is special and the not-so-secret ingredient that I put in every dish," tita Lachi once revealed.
     "Mike and I take turns manning the restaurant.  Since day one, we have been personally involved with the food preparation and cooking as well as the business itself.  We prefer being behind-the-scene but we personally attend to our cakes and pastries catering business which requires us at times to face our clients in our uniforms during special events and occasions.  What we personally dish out, in a sense, defines our family business," discloses Mel.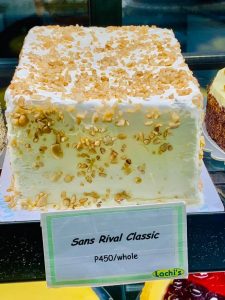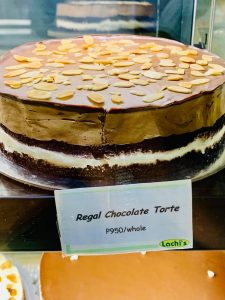 Most of the items on the Lachi menu are the Aviles family's favorites which include callos, pochero, caldereta, oriental chicken, baby back ribs, glazed ham, steamed shrimps in gata, laing, among others.  Mind you, but tita Lachi's special chicken relleno is the best I have tasted in Davao.  The cake chiller showcases Lachi's heavenly cakes and pastries like the signature Sans Rival Classic, New York style Cheesecake, Durian Cheesecake, my favorite Mud Pie, Midnight Delight Chocolate Cake, Five Chocolate Torte, Pecan Tarte, just to mention some.  
    "Indeed, Lachi's has caught the Davaoenos' pallet with its subtle sweetness na hindi nakakaumay. Truly savory and addicting…It has different flavors for different taste buds…Of course, you pay for the quality of Lachi's food and cakes and pastries," commented a frequent Lachi's diner, Cecile Dioquino-Hidalgo.
    "Sadly, during these hard times of the Covid pandemic, Lachi's is offering a scaled-down menu which is available only for delivery and take out.  This is to avoid overcrowding in the workplace.  And also for better quality control in the midst of all these health protocols we have to observe. Lachi's has a cake shop and restaurant in Marfori Subdivision; and cake shops along Tulip Drive in Matina and in SM Ecoland," informs the ever dependable Mike Aviles.  Indeed, Lachi's understands the importance of customer engagement to keep itself relevant.  Lachi's accepts orders online and uses social media to keep in touch with its loyal patrons.
     Congratulations, tita Lachi, Mike and Mel Aviles, and the Aviles family members.  Hopefully, we'll see each other again soon.  God willing.