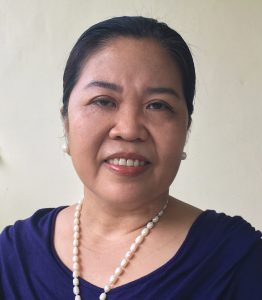 By Ruth S. Morales
THE month of June is popular for weddings. It is said that whoever marries in June will be bride for life, and the groom will forever have a sweetheart. If we were to search the reason for this tradition, links would point us back to the Roman goddess of marriage, Juno (June), who was believed to be responsible for granting happiness and prosperity upon married couples. But some sources say that it's because during the medieval period, a person's annual bath happened between May and June, so brides and grooms smelt fresher this time of the year. Others say that it's because June has the best weather, and it's the harvest season where people can afford to spend time on banquets and merrymaking. Whichever reason is true, June has become the month where wedding bells ring more frequently than other months. Sad to say, June weddings this year will not be as many and as big as they were because of the pandemic. 
My son is supposed to get married this month. As a groom's mother, I have gone through the highs and lows of emotion. My mother-heart breaks for my son and his beloved as I watch them find their way around many restrictions in planning a wedding. It is surely not easy for everyone involved, but much more so for the bride and groom! I have asked my son and a friend who just got married to share a bit of their experience. I also asked an officiating minister to share his valuable insights for couples who are marrying this time of the year.
The decision to get married during a pandemic is not difficult. But planning a wedding during a pandemic is! We know that there are challenges to every wedding planning, but not quite like what we have now. Planning for the details can be challenging but add to that the many restrictions and limitations we are to consider. Travel restrictions and capacity limitations are huge challenges but the most difficult to tackle is the unpredictability of the quarantine guidelines. We have already rescheduled and changed plans numerous times. We hope there won't be changes anymore. (Ben Morales, Groom).
I have always believed in the power of a team. There may have been a few hiccups in the wedding preparation because of unpredictable changes in the community quarantine, but a beautiful day has been created because everybody was committed to celebrate the marriage of two people filled with love. (Diana Zaman, Bride).
During my pre-marriage counseling sessions with couples, I could see the determination to get married, but I could also see how stressed they were, trying to cut down guest lists, cancelling trips, etc. The sessions helped them hear my perspective as a minister, and it helped take their eyes off the "must haves" in weddings which could be classified as non-essentials especially nowadays. Last year, I officiated an intimate wedding with only 10 people. It was quiet yet fun, and very practical! I saw the joy in the couple's faces after I pronounced them husband and wife. (Rev. Joey Gregorio, Pastor)
I was a bride 28 years ago, and I remember the stress of squeezing everyone into our 250-guest list. I can't imagine doing it now with a 25-guest limit, but some couples have creatively done it. The live streaming or online viewing has done a lot in bringing families and friends together to the celebration.
Weddings are supposed to be a beautiful celebration where a man and a woman commit themselves to a lifelong marriage relationship before God. Couples and families involved must not allow unnecessary stressors to rob them of the joy. I always say this piece when I counsel young couples. Now, I am saying this to my son and to myself.
(Ruth Morales is a faculty member in the Department of Languages and Literature at Central Mindanao University in Maramag, Bukidnon, and is also working on her thesis for her Masters in Education majoring in Alternative Learning System. She has three children and is well-traveled having lived in China, Thailand, and have served in many other countries.)