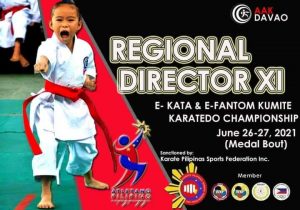 CLOSE to 100 entries are expected to show their wares in the 2021 Association for the Advancement of Karatedo (AAK) Davao Region XI Directors Cup E-Kata and E-Fantom Kumite this June 26 and 27.
Sanctioned by the Karate Pilipinas Sports Federation Incorporated, the online tournament will be open to all clubs nationwide according to Karate Pilipinas Sports Federation Region XI director and AAK Davao chief instructor Rommel Tan.
According to Tan, medals and certificates will be given to all winners in their respective age group categories which starts from six to eight years-old and over.
Expected to see action for team AAK Davao are its mainstays Heleina So, Vryzyse Edelweiss Krebs, Aldren Solon, John Philip Cagandahan, Stephen James Cartagena, Julian Ambrose Ramirez and Sofia Ferenal.