IT AS in August 11, 2019, during Davao's annual Kadayawan Festival that an outstanding candidate handpicked as ambassador of good will by the Maguindanao Deputy Mayor to compete for the Hiyas ng Kadayawan beauty pageant shone ever so brightly.  The young Maguindanaoan lass danced gracefully the royal "Silong sa Ganding" showcasing her beautifully woven malong; sang well "Bayuk," and played so amazingly the kulintang while blindfolded at that.  Naturally, she was hands-down the winner of the "Best in Talent" award and was unanimously chosen by the judges as the Hiyas ng Kadayawan 2019.  
     The Maguindanaoan Hiyas ng Kadayawan 2019, Nurainie Ampatuan, has an extended reign with the advent of the Corona virus epidemic.  She has a Bachelor of Fine Arts degree major in Fashion Design from the Philippine Women's College of Davao tucked in her malong.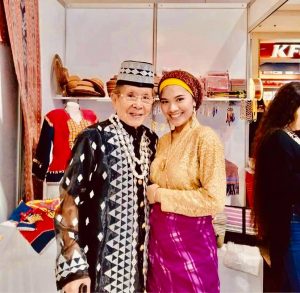 The fashionista has established her own clothing line called Hilyah (Arabic word meaning adornment) Signorina (Italian corresponding to Miss) where she features ever so proudly her tribe's Inaul handwoven fabrics in her contemporary designs.
 "As a student, Nurainie Ampatuan has always been proud of her Muslim heritage. Her graduation fashion collection took inspiration from her Muslim roots emphasizing on modest dressing but with a contemporary take on her preferred fashion style," recalled her PWC professor Emi Englis. 
It was in December, 2019, when Nurainie personally invited me to the launching of her first ever Hilyah Signorina wedding gown. 
Nurainie's fashion creation was intricately embellished with the amazing patterns of the Maguindanaoan tribe. 
The elegant bridal gown was the designer's creative expression lovingly made to be worn by Nuraini's relative,  Ahada "Bai Ada" Ampatuan Ampatuan, in a Muslim wedding ceremony when she got married to Bushran "Datu King" Abdullah Adam.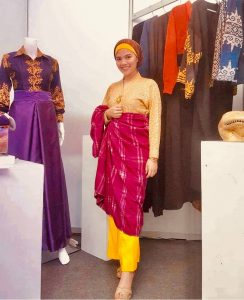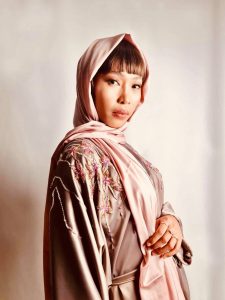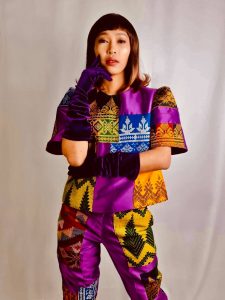 "That first wedding gown I designed was all about cultural awareness.  I came up with the idea of mixing the traditional patterns of the Inaul by using white beads and fine crystals ones.  The traditional patterns used were Lumbayan, Karanda, Muntya,Pakireng and Seiko Andong.  With that kind of embellishment technique, I decided not to use anymore the Inaul fabric so as not to overload the wedding gown with so much details," recalled Nurainie, as she continued, "The painstaking use of traditional patterns on the wedding gown reflected my very objective of promoting the fine craftsmanship of the Maguindanaoan weavers in Sultan Kudarat, Maguindanao. Our brand's design concept emphasizes on the use of traditionally handwoven tribal fabrics which deserve our utmost respect and honor. I am a staunch advocate of of celebrating the use of the rich and colorful traditional fabrics of our country; and best of all, the preservation of Philippine traditional weaving practices."
"We really need to do more research works on our indigenous fabrics which form a part of our very own history.  Each region's distinct traditional fabrics are the DNA of the Filipinos' varied culture. We are sincere in our efforts in preserving this handweaving tradition as part of our very own unique culture.  We want to share the artistry behind these fabrics of life among Filipinos and the rest of the world."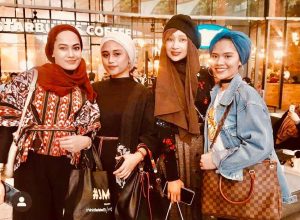 "Influential, neoteric and prosperous, Hilyah Signorina's fashion is always inspired by the different women of substance who conquer the elegant world of modest fashion.  The brand represents the authenticity and creativity of a passionate and determined Maguindanaoan designer who is strongly inspired by the marvelous diversity of the Moro and the indigenous Filipino culture, artistry and craftsmanship. Every apparel design detail will tell the story about how we strive to be recognized as a multi-fashion brand for the 21st century," revealed Nurainie as she added, "My brand is evolving.  It really depends on art, nature or life that would inspire me to create a single dress or a whole collection…As to my style, I have a preference for the classic avant garde and fabric manipulation." 
     Nurainie believes that fashion is not just about looking good or being anxious and conscious about your physical appearance.  "It's also about expressing your feelings and moods through colors, phenomenal designs and creative pieces.  Your fashion needs to be a form of self-expression because everyday, it becomes your first impression."