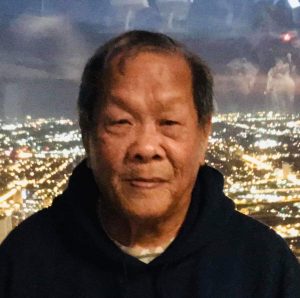 I'M BACK to writing after missing the past issues because I promised a good man and friend way back in the 90s that he will be in this corner when he dies ahead of me.
He passed away last Friday and despite my fading eyesight and backpain, I will endure the pain just to fulfill a promise.
Joe and I were the best of friends since there no day passed that we did not communicate by phone or see each other to eat, drink, or talk about anything under the sun.

We first met in 1987 in the regional office of the Housing and Land Use Regulatory Board (HLURB) presided by then regional director Roy Lopez during the Cory Aquino presidency while attending to a case I filed before the government office against our subdivision developer.
I represented the village located along Quimpo Boulevard in Matina in the case of the president of the association against the developer who abandoned the unfinished project and left the country. And since Joe's family was the owner of the land in the contest although he, himself was also cheated by the developer, my late friend came to a settlement with us and assumed the responsibility of completing the project to protect his family's remaining interest in the still unsold lots of the 12-hectare property.
This is where our friendship began.
I became part of Joe's circle of Filipino-Chinese businessmen, mostly rich traders in Chinatown in Sta. Ana and R. Magsaysay Avenue, and some friends from the government who called themselves Shanghai Boys. The word 'Shanghai' was coined from the Davao Shanghai Restaurant owned by Joe and watering hole of the group after office hours almost every day.
Most often, some members of the group ended the beer-drinking spree in the restaurant to play in the Davao Casino in Lanang, while others who were not fond of gambling proceeded to other happenings like in the videoke bars. Since Joe and I were not used to gambling, most of the time the two of us landed at this entertainment world where we stayed up to the closing time of the establishment.
I have many good friends and acquaintances in our group, but I considered Joe the best because I saw in him the meaning of what friends are for. He was the most realistic and practical guy I ever knew.
The last time I visited Joe in his house at Insular Village was on April 19, 2019, a day before I left for the United States. He was already bedridden. But we continued our communication even when we were already half the world apart.
His younger son, Jasper, texted me last Saturday: "Hello, Daddy passed away na yesterday. Wala na wake Tito because it's MECQ now in Davao so the family decided not to have a wake. He will be cremated on Tuesday."
Josefino "Joe" I. Huang died at the age of 85 of kidney failure, according to his wife, Lolita. His remains were cremated yesterday.
Our friendship may not be a perfect one, but I will forever cherish it. The lives he touched will surely miss his company and his kabaitang makisama. Rest in Peace, my friend!
-o0o-
Here's another good friend of mine who is also worth mentioning.
It was Mother's Day for all moms in the Philippines that Sunday morning and I didn't expect to receive a regalo or congratulatory message, especially from someone I've not seen for quite a time now. It was not my day after all, but for mothers.
A longtime friend I met at Citi Hardware-Buhangin, after many years of not seeing each other, handed me a rechargeable electric fan in an unwrapped box, and with a smile, he said: "Pare, regalo ko yan sa birthday mo."
"Pare, ano ito, hindi naman ako mother?" I asked.
"Pare, nabasa ko sa column mo 80 years old ka na, kaya birthday gift ko yan sa'yo!" he answered.
"Ha! January 17 pa yun, four months ago na!"
"I know, pero ngayon lang tayo nagkita."
Then he hurriedly left without waiting for me to thank him. Pambihira ka, Pare!
A store staff at the cashier counter who heard our conversation said: "Ganyan talaga si boss, mabait na tao yan."
"Tama ka Dong, matagal ko nang kilala ang boss mo," I said.
The boss the hardware staff refers to is businessman James Lee who started the first retail-wholesale construction hardware DecoArts along Quimpo Boulevard and the first Citi Hardware right in front of its sister store years later in 1976.
Now the leading and fastest-growing supplier of construction materials, Citi Hardware has more than 75 branches in the country and I believe that its success may be attributed to the positive decision-making of James Lee in handling the business and his continued good relationship with his employees.
DecoArts and Citi Hardware have been regular advertisers of the TIMES since the early 80s. Salamat muli, Pare!