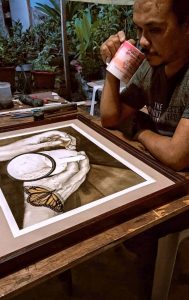 WHEN we talk of squid, cuttlefish, and octopus, we normally see them as seafood. But for Church of the Nazarene pastor and organic artist Marvin Tiberio, these cephalopods are tools of his trade.

A native of Mati City, Davao Oriental, Tiberio has always been inclined to the arts since he was young. He used to do watercolor painting in high school, and even studied Fine Arts at the Far Eastern University in Manila for a year until he found a different calling in serving the Lord in 1995.

His interest in the art only got rekindled when he gave a painting as a token to a visiting missionary in 2013. In August of the same year, he started to experiment with squid ink out of curiosity.

"Ironically, I discovered squid ink as an alternative for paint when I was assigned in South Cotabato – very far from the sea," said the Matinian artist.

His first squid ink art was a painting of a carabao and a slended rail (tikling), which a friend in the US bought for US$100.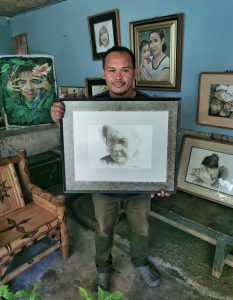 "But it literally stinked because I didn't know how to dissect the squid properly yet. I later learned that you need to extract the ink from the sac first," he recalled.

He also pasteurized the ink to kill the bacteria that produces the stench.

Aside from squid, after several experiments and studies, Tiberio was also able to extract ink from cuttlefish, octupus, and even from plants, such as turmeric (yellow), azuete (orange), bloodberry (dark orange), and blue ternate (blue).

He also experimented by mixing them with glycerine and honey, and even used egg yolk as finishing.

"That was when I coined my work as 'organic art' because the paint that I use are not only natural but are also edible," he said.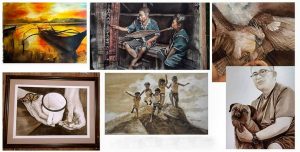 Among the natural sources of his inks, he prefers using squid ink the most, which produces a bit more brownish, almost sepia tone.

"Squid ink is the most difficult to extract because squids are tiny. A bottle of squid ink probably needs around 5 kilograms of squid. But they are very saturated and can produce more artworks," Tiberio explained.
Another positive outcome that he learned from his experiments is that squid ink do not dissolve in water and can brave moisture in the air. It does not also get bleached under the sun, making his artwork more stable and lasting.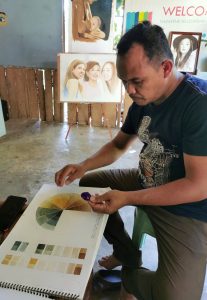 As guide, Tiberio made various studies and produced a colorwheel in 2020 that shows what colors are created from his organic sources.

"I am still in a neverending quest for more organic materials. I recently tried tree barks, but I'm still checking if their colors will last," he divulged.
To date, Tiberio has done several commissioned and non-commissioned art works using squid ink. Some of his works are now displayed in homes and offices while two of his art pieces are in a gallery at the Subangan Museum in Mati City.

Together with other local artists, a virtual exhibit is in the works. He aspires of doing a solo exhibit in the near future to further showcase his now-famous squid ink art.

"If my art continues to thrive, God-willing, I want to build a learning center where I can teach more people about organic art," he said.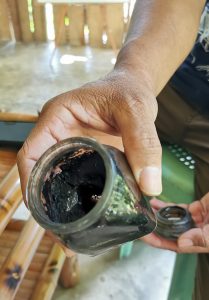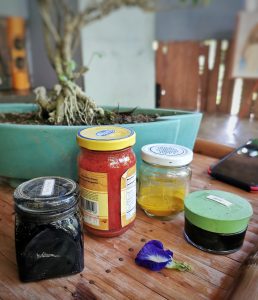 Tiberio wants to advocate the use of non-chemical based colors, which is more environment-friendly.

"They are also inexpensive and are easily available. With organic art, we can encourage more young artists to develop their talents and express their creativity," Tiberio quipped.


You can view some of his artworks online via his Facebook page SKWID.