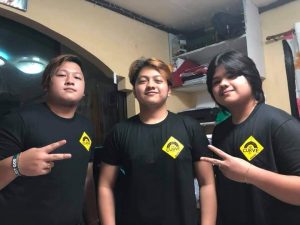 LOCAL band known as The Curve released their first indie album "Lockdown" which now is available on Spotify, Itunes, YouTube and all digital music sites.
Composed of proud Davao-based artists, The Curve is composed of three brothers Jofred Carl A. Dagohoy (drummer), Josemari Carlos. A Dagohoy (bass guitar) and Christopher Caile A. Dagohoy (vocals and lead guitar) along with Zeus Bordios (rhythm guitar).
Inspired by curve roads when they travel which made them call their band name, The Curve started writing original songs back and 2018 that includes "Maghihintay", a song about a lover who is willing to wait for his love one to come back; and from then followed it up with "Ikaw Pa Rin" and "Panaginip".
Their songs inspired by love experiences channeled them to night gigs at the MTS Taboan back in 2018 as joined by other local-based musicians which they call "idols" for inspiring them to sing and promote local bands.
Aside from their songs, The Curve also promotes their signature shirt and mugs to their fans and followers over their Facebook page.
The Curve is soon to release their cd but one can check their live interview over On Wild FM Spotlight on YouTube produced by Major Cool and hosted by Joe Friday. (Jon Develos)