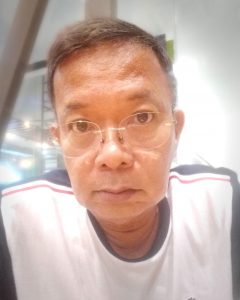 WHEN discussing everything that has happened under this pandemic atmosphere (starting from early 2020 up to now), some friend whom I've stayed in contact with, suddenly waxed poetic and articulate at giving special mention to at least two things.
One, they appeared unanimous in saying that it surely feels that we have all been here a while. Then as second, it felt that a lot of water has been under the bridge during the said duration.

Regarding the latter, how I wish I could limit everything to the metaphorical side of things. Just yesterday morning, it was reported that the previous night's heavy rain from Typhoon Dante had caused a creek nearby to overflow.
As such, that has resulted in the flooding of some areas not far from our place. The local rescue had then effected the evacuation of a few who were subsequently housed in our local sports gym temporarily until waters receded. Too much water under the bridge, that one.

I totally agree with my pals' assessment that we've all been here for quite a while. (at 66, who doesn't?) As it is, some had started feeling stuck already, like listless doggies in a cage for too long. So, it has been back to tennis for a few, just in time for Roland Garros on TV. Others have gone out to smell the flowers, and I mean that in the most literal sense. Never too late for gardening.

On the downside of this equation, so many sad things have come during these two years as well, and I feel that these must explain much of the rut that we feel.
For our family and many other close friends, we've lost a dear one, although not because of Covid. Still, that does not make it any less tragic. On the contrary, because of the limitations posed by Covid and the quarantine protocols, one's movements have all become so hampered that they have added to the pressure and the deep sense of loss.

A lot of talks has surfaced too, about depression and many negative thoughts. At this, we oldies talking have all arrived at an agreement: despite the pandemic, they would not dare call us baby boomers for anything.
We love our own, they said, and I guess and that means we find happiness in simple things. Unfortunately, I didn't get to the part where the articulation of these simple things was discussed though. It was way past bedtime for some, so we had to adjourn for another day.

Alas, with only three of us night owls left in the chat room, a lot of dead air and introspections filled our remaining moments. Had this been an actual weekend night, it might have been different, with a few beers. One among us had mentioned the coming December reunion, and was it even going to push through still? Until next time.