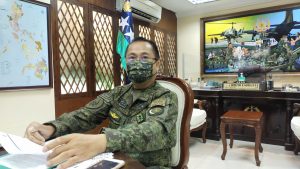 MORE  than a year into the pandemic, Armed Forces of the Philippines (AFP) Chief of Staff Cirilito Sobejana said the organization is doing its best to be more relevant and capable in the response against COVID-19.

"For now, we are actively involved in preventing the spread and even in addressing those infected with COVID-19 through immediate medical attention," Sobejana said in an interview at his office inside Camp Emilio Aguinaldo headquarters in Quezon City on May 25.

"So we are mobilizing our medical units because the Armed Forces is not only for war. We also have medical units under AFP health services command and they are deployed across the archipelago," he said.

The major commands of the Armed Forces have hospitals with designated doctors, nurses, dentists, and medical technologist and other medical practitioners.

On the vaccine, he said they have so far given 70,000 Sinovac allocated to them and was delivered to different military facilities nationwide. A total of 34,963 soldiers were already jabbed for the first dose and the second dose ended last May 22.

"Then we have incoming another brand AztraZeneca, 2,488 doses will be issued to the Armed Forces and the same thing will allocate it proportionately to our soldiers," he added. "And so far, of that number, 1,454 AFP personnel already received the first dose (from AztraZeneca)."

"As far as COVID-19 is concerned, we as an organization are really striving and doing our best. And we are, I should say, becoming more capable and more responsive, and we are exercising our professionalism in addressing this pandemic," Sobejana said.

The AFP chief said we wanted to be relevant so that our people will be happy with what we are doing. Currently, the AFP has 140,000 personnel, excluding civilian employees.

"More (vaccines) are needed for our soldiers but, of course, we follow the protocols of the IATF ( Inter-Agency Task Force) to prioritize those in the medical sector who have more exposure to the virus," he added.

Pandemic affecting AFP?

"We always allocate our time proportionally as what I've said we are deployed across the archipelago. We can always provide assistance to our partners in the local government units and civil society," he said.

"We want to continue to be relevant," he further said.