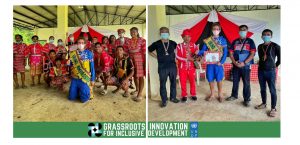 TRAVEL Vlogger and Influencer, Kyle Douglas "Kulas" Jennermann, was officially recognized on May 14, 2021 as the Program Ambassador of the Department of Science and Technology Region XI's (DOST XI) Grassroots Innovation for Inclusive Development (GRIND) Program.

Kulas, also popularly known for his YouTube channel name Becoming Filipino, is a Canadian Blogger/Vlogger and Influencer from Comox, British Columbia. He captured the hearts of his fans all over the world, especially Filipinos, with his documentary-style blogs and vlogs featuring the alluring and fascinating places in the Philippines, as well as highlighting the positive experiences and connections he made with the people in the different communities he visited.

His passion to share inspiring travelogues and promote Filipino culture brought him to the limelight across different social media platforms. Currently, he has 1.2 million followers on Facebook, 925,000 subscribers on YouTube, and 219,000 followers on Instagram.


THE GRIND PROGRAM

DOST's GRIND Program provides opportunities to stimulate overall growth of the country by utilizing community-led solutions geared towards sustainable development. It seeks to empower marginalized communities by developing and strengthening its existing Grassroots Innovations (GIs). One of its highly important activities is the conduct of the Solutions Mapping Adventure called "SalikLakbay".

"SalikLakbay", is a combination of the words 'Saliksik' (to explore/ research) and 'Lakbay' (to journey/go in an adventure). It aims to identify grassroots innovations and solutions and assess the needs and opportunities in the community where DOST can provide science and technology interventions to address certain problems.

The Department of Science and Technology Region XI (DOST XI) in collaboration with the United Nations Development Program in the Philippines (UNDP-PH) – Accelerator Lab have been conducting SalikLakbay in different areas in Davao Region since last year. To date, a total of six activities have been conducted in the region – two in Davao Oriental, one in Davao de Oro, Davao del Sur, Davao City, and the latest one was in Davao del Norte. More SalikLakbays are also set in Davao Occidental and other areas in Davao City, Davao del Sur, and Davao de Oro in the coming months.


WHY KULAS?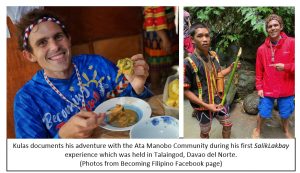 According to the GRIND Management Team, they have chosen Kulas as the Program Ambassador because he has the characteristics of being a "SalikLakbayer" (SalikLakbay participant/researcher).

"We selected Kulas as our GRIND Ambassador because he embodies what it is to be a SalikLakbayer. With the many adventures he has done, he has been featuring the innovativeness and creativity of the Filipinos through the solutions they created as a response to a social need," the GRIND Team said.

In his social media posts, Kulas shared his excitement to be part of the team – not just to visit unique areas in Davao Region, and explore local life and grassroots innovations, but more so, to actively look at how to bring in positive development.

"You know, when the DOST and UNDP approached me for this project, the first thing they said was: Kulas, you and your #BecomingFilipino team have been doing it for years. Which makes you perfect for this. And I couldn't agree more… especially with this AMAZING ONLINE COMMUNITY that is part of it everyday. Thanks for being a part of the learning and adventure!," he posted on his Facebook page.


BECOMING A SALIKLAKBAYER (The SalikLakbay Experience)

Officially becoming part of the GRIND team, Kulas was among the SalikLakbayers in Talaingod, Davao del Norte on May 14, 2021. The team were guided off into a ravine in the middle of Barangay Dagohoy, Talaingod, Davao del Norte. A group of 15 researchers have immersed in the Ata-Manobo Community in the said area.

"Spending time with the Ata Manobo in Talaingod has been absolutely awesome! We were guided by them and introduced to a lot! I am so stoked on this program's future positive outcomes!! Many stories to come!" Kulas said.

In his vlogs, the international vlogger showed the grassroots innovations found during the activity. Among the GIs "Bagtok", "Hagonoy" plant and "Apusao" plant.

Bagtok is a family of the bamboo tree usually found in the forest. Bagtok can be used as a raw material to produce or create products such as "liyang", a multipurpose basket which comes in many sizes and designs crafted by the women of the community. The Lakbayers also found out that "Hagonoy" plant leaves have potential for wound healing. Another interesting innovation is the "Apusao" plant, an edible plant which can be cooked in different ways or recipes, which the Program Ambassador described as "lami" or delicious.

Kulas further emphasized that one of the crucial parts of the program is how DOST, along with UNDP-PH uses science and technology to get a better perspective, and see potential ways to utilize the GIs for the benefit of the community.

"Such a wonderful program. Looking forward to seeing how the DOST and UNDP as well as our online community utilize our resources to help these amazing innovations continue to grow in a positive way. Thank you Ata Manobo for this experience," he commented in one of his posts.

"Truly thankful to be an Ambassador of this. And really such a wonderful experience learning with the Ata Manobo here in this part of Davao Region," Kulas concluded. DOST