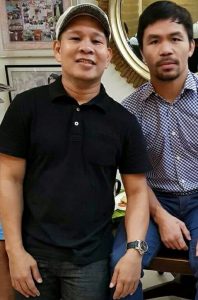 FORMER world champion Gerry "Fearless" Penalosa is predicting yesterday that Manny Pacquiao will win by a knockout in the later round against Errol Spence Jr. of the USA.
"Pacquaio by late KO, referee will stop the fight or the cornerman will stop it," said Penalosa of the GerryPens Promotions, Inc
That is only the honest opinion of Penalosa.
"Speed, power and the will to win of Manny will make him win," added Penalosa .
He said that he might go to the US to give moral support to Pacquiao.
"Basin adto, para support (Maybe go, for support)", said Penalosa.
He said that it will be a hard fight for both.
Meanwhile, promoter-manager Brico Santig also thinks that Pacquiao can also win by a knockout in the later round.
"50/50 close but Pacquaio will win it in 10 rounds" said Santig of the Highland Boxing Gym. (Lito delos Reyes)