One important thrust of Davao Light and Power Co., Inc. (Davao Light) with its social development arm, Aboitiz Foundation, Inc. is to conserve and protect the environment. Invaluable environmental efforts are being carried out in the Aboitiz Cleanergy Park, an eight-hectare biodiversity park with a coastal forest in an urban setting. It teems with life on land, sea and air thus Davao Light is committed to protect and maintain its healthy and well-balanced ecosystem.
The company further strengthens this commitment as it signed a Memorandum of Understanding (MOU) last April 22, in time for the celebration of Earth Day, with three (3) private organizations, namely: Rotary Club of East Davao with the Rotaract Scholars Chapter, Junior Chamber International (JCI) Davao Inc., and Philippine Science High School-SMC Alumni Association, Inc. (PSHS-SMC). The MOU indicates the support of these organizations to the environmental initiatives being carried out in the Park.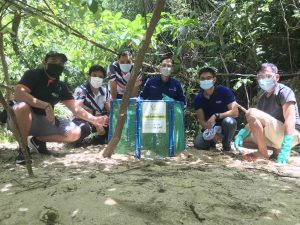 "It is an honor to have committed partners like you who will spend time and energy doing coastal clean ups and tree planting activities at the park," said Davao Light President and COO Rodger Velasco. While park tours are at a halt this time, tree planting and coastal clean up activities are still welcome but controlled with precautionary measures in place to help prevent the spread of coronavirus. The PSHS-SMC is among the organizations that are already scheduled for a coastal clean up next month.
For their part, JCI Davao visited the Park last May 15 and witnessed the validation of two (2) pawikan nests. They have also shared their plans to create a video to raise awareness on pawikan conservation, organize coastal clean up and mangrove planting activities, and raise funds to help the rescued sea turtles currently rehabilitated in the Park.
"We cannot do it alone, we need partners like you. The more people and groups working together, the more beneficial it is for the pawikans and the environment as a whole. Let us continue to do what is right by doing good to our environment and ensure that the pawikans will never cease to exist for the next generations to come," Velasco added.
Through the efforts of AboitizPower distribution unit, Davao Light and its partner organizations, the Aboitiz Cleanergy Park will continue to be a haven for migratory and local birds, various mangrove species, a pawikan rescue center facility, a nesting ground for critically endangered sea turtles, and a place of learning for children and adults alike.